"Like a human being, a company has to have an internal communication mechanism, a 'nervous system', to coordinate its actions." — Bill Gates.
Life expectancy for organisations is plummeting and many businesses face an existential threat. Internal Communication (IC) is seen as the organisation's life support system. And just as technology has raised human life expectancy, so it can arrest modern business mortality rates.
Keystone for success
Without a robust Internal Communication strategy, morale will suffer, the best employees leave and attempting any change or engagement programme ends in disappointment.
Effective Internal Communication is a keystone for successful organisations; it locks the organisation together, gets colleagues collaborating around specific business goals and creates transparent and productive work environments where staff thrive.
This is all the more vital given the changing nature of the modern workplace, with people on the move, remote workers and disconnected workforces.
Getting it right
But the Internal Communication team have little margin for error. It has been estimated [1] that over six months, a typical employee is deluged with 2.3 million words of communication in the workplace. Over the same period, the communication about a strategic project is likely to average 13,400 words which includes:
a CEO speech of 30 minutes

a team meeting of 60 minutes

a 600-word report in the company newsletter

a memo of 2,000 words from the project manager.
In short, the critical strategic project gets just 0.5% of their attention. It's up to Internal Communicators to make sure that message is clear and to the point.
What you need to know
We have compiled below nearly everything you need to know about Internal Communication/s (the final "s" is less used these days). And in turn, it will show you how to help your business influence the knowledge, attitudes and behaviours of your current employees.
There is plenty of guidance, examples of best practice, great ideas and a few pitfalls to avoid. The biggest idea of all is that the core purpose of Internal Communication is to identify and share company goals so that employees know what they are working towards.
And that every Internal Communication must bring change, or you have wasted your time.
What you will learn
You will discover what Internal Communication means in the 21st century and why it is increasingly important to the longevity of your business.

You will learn how to create an Internal Communication strategy and write an Internal Communication plan.

You will be able to evaluate whether employee engagement apps, a blog from the CEO or a poster blitz is right for the message you have to communicate today – and why you will need something completely different next time.
Adding value to senior leadership
Your Internal Communication strategy will get the very best results if you can persuade managers and senior leadership to listen to feedback and to communicate personally.
And when senior leaders do receive feedback, they need to be able to act on it in a way that you can communicate about. One of your crucial tasks will therefore be to make sure that senior leadership gets the service, support and guidance it needs.
There is value in this to the business, as well as to your personal standing within it. A knowledgeable communicator is an influential communicator.
Increasing your influence
Being able to advise senior leaders on what an audience group is really thinking will be highly valued. For example, if you have done your research by listening carefully to the workforce, you will know why some facets of a planned change are doomed to fail because employees will never accept them. Knowing your audience is pivotal to you being invited to play a part in strategic discussions.
So you benefit, the workforce benefits and the business benefits.
What is Internal Communication?
Key points
Internal Communication builds trust with every employee

Internal Communication is about outcomes, not activity

Internal Communication is about giving staff the big picture and the tools to collaborate

Internal Communication is about taking the strategic viewpoint - as well as building more hospitable environments [2]
Internal Communication helps a company build a relationship of trust and understanding with every employee to drive productivity, innovation and loyalty. IC has one fundamental purpose – adding value to your organisation, whether that is helping it achieve its core mission or making a success of a one-off project.
What Internal Communication is not
IC is not shouting at staff with a constant stream of announcements, new priorities and random activity just for the sake of looking busy.
So what is Internal Communication?
Giving staff the big picture and the tools to collaborate.

Showing employees in disparate departments they are all part of the same endeavour, moving towards a common purpose.

Translating business strategies into practical ideas that mean something to employees on the ground.
Definition of Internal Communication
IC has been defined by academics Tench and Yeomans as:
"The planned use of communications actions to systematically influence the knowledge, attitudes and behaviours of current employees."
The Business Dictionary defines IC as:
"The sharing of information within an organisation for business purposes."
Read more about what is internal communication to find out how we deconstruct these definitions and to discover what good Internal Communication looks like.
What is the difference between Internal and External Communication?
Key points
Internal and External Communication have different audiences and different messages

But they need to work in harmony for business success

And the distinction can sometimes be blurred – very effectively
Defining Internal and External Communication
Internal and External Communication are both vital to the effective functioning of the business. The first is used to guide, inform and motivate individuals to work at their best for the organisation's success. The second communicates with the outside world and is key to its reputation.
We can further differentiate Internal and External Communication by considering:
Purpose – IC motivates employees and helps them stay on track; External Communication shapes society's view of the company or brand.

Means – both use multiple means. For IC these include newsletters, presentations and employee engagement apps; for External Communication they include advertising, websites and annual reports.

Audience – Internal Communication speaks to staff from the newest recruit to senior leadership; the audience for External Communication ranges from customers to shareholders and government.

Frequency – IC is usually more frequent than External Communication.

Scope – Internal Communication flows within the business; External Communication in society at large.
Read more about how Nationwide Building Society and HSBC have successfully blurred the difference between Internal and External Communication.
EUREKA! Why Internal Communications really matters
Key point
Internal Communication helps organisations fight seven types of problem: employee engagement; understanding; retention; effectiveness; knowledge; advocacy and !egal.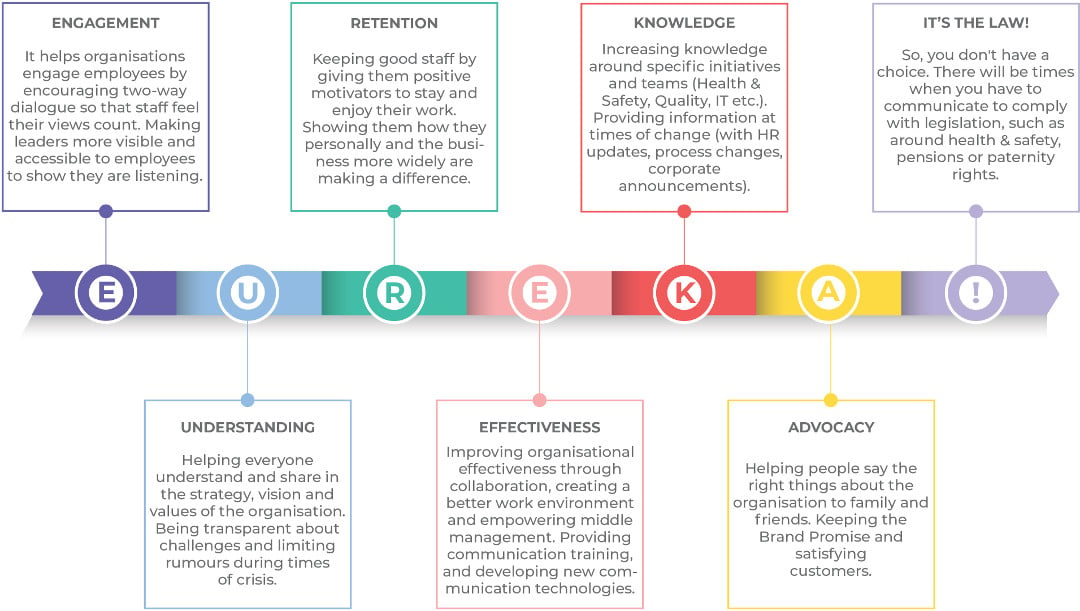 Internal Communication Strategy
Key points
Show each employee where they fit in the overall vision

Every activity must lead to change

Where you sit is less important than how you add value
Why you need an IC strategy
A robust Internal Communication strategy should:
Ensure every communication will be dovetailed to specific business goals.

Give employees what is known as "line of sight": this is when they grasp the company's overall vision and their personal role within it.

Make sure every activity leads to action that changes something.
You will need to make sure your IC strategy can do three things:
Deliver brilliant content and tools through writing, design and digital.

Forge partnerships across the business with individual leaders or teams.

Offer strategic advice to leaders.
Where to begin
When you are setting up an Internal Communication team, start by considering what you need to do. FitzPatrick & Valskov [4] provide a model starting point, presented as a virtuous circle - which we've seen many consultants adapt to help project leaders organise their thoughts: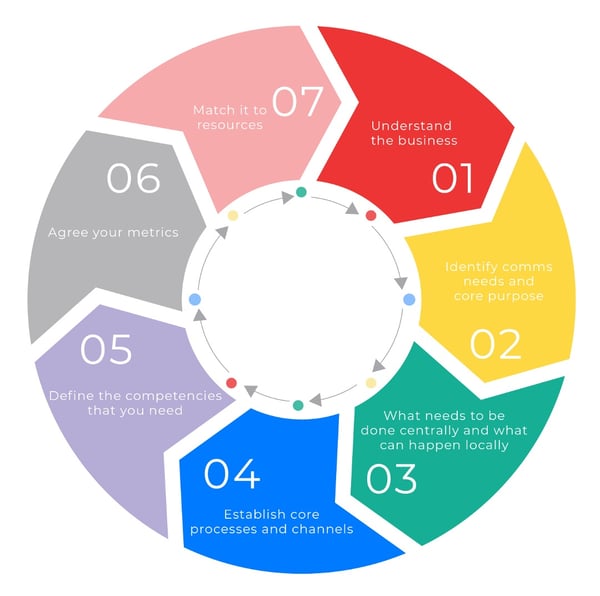 You may come under pressure from HR, PR or Marketing to sit within their department. Where your desks and chairs are situated matters far less, however, than understanding what you are trying to change and where you can add value to the business.
Read more on Internal Communication Strategy and find out about six common fallacies and flaws.
Internal Communication Plan
Key points
Put yourself in your audience's shoes.

If you don't know why you're doing it, don't do it.

Spend far more time away from your desk.
How to make an IC plan
Your five vital questions
Whatever you need to communicate, there are five essential questions that will provide the foundation of your plan.
Why: what is your overall business or project goal? This is the critical launchpad, defining what value you are going to add.

Who: who is this specific bit of communication aimed at? What do you want people to do differently as a result?

What: what are you actually asking people to engage with – and why should they care?

When: are other messages or events going to overshadow your timing? Do you need to get a message out there urgently, or can you afford to wait?

How: what channels will work best for the content and the audience you have in mind? And what style should you use?
Tracking and evaluation
You will also need to track whether you are making progress towards your target or whether you need to tweak your plan and reshoot.
Read the answers to these Internal Communication's Planning questions on our internal communications plan blog, and find out how to avoid three common pitfalls: overload, disconnect and me, me, me.
Internal Communication Examples
Key points
Define your purpose

Link Internal Communication to value

Listen!
Examples of Internal Communication – good and bad
These two good and two bad examples of Internal Communication are based on the first four of FitzPatrick's 7 Golden Rules, with the final three here..
Rule 1: Activity means nothing without results
The starting point for every IC has to be: "What do we want people to do?"
Example of good Internal Communication: Nationwide's BIG Conversation resulted in a refreshed strategy and new marketing campaign.
Rule 2: Value benefits the business
You will only be adding real value if your IC links directly to business needs.
Example of good Internal Communication: Logistics provider XPO wanted to leverage great ideas from hard-to-reach colleagues across 104 sites. A bespoke app delivered return on investment of 6.5:1.
Rule 3: In the thick of it
Get out to talk and listen to employees.
Example of bad Internal Communication: AOL CEO Tim Armstrong fired an employee during a morale-boosting call with 1,000 staff.
Rule 4: Shut up and listen
Internal Communication is a two-way street.
Example of bad Internal Communication: PayPal President David Marcus told his staff to use their product or quit.
Read more about the Internal Communication Examples to find out what went right and what went wrong.
Internal Communication Channels
Key points
IC channels must match the task

They must have a clear purpose

Face-to-face communication is most effective but digital most used
If our overriding mantra is that results not process matter most, so your Internal Communication channels must match the task in hand. How you say something is often as important as what you say. Different employees will have different needs: a quick read in their tea break, an app they can consult out on the road, safety information always at hand.
There are three main Internal Communication channels:
Face-to-face: from team meetings to roadshows

Digital: from email to internal TV

Print: from mouse mats to noticeboards
Recent research from Gatehouse [5] found organisations are investing heavily in face-to-face communication and rate it as more effective than digital or print. Most effective were conferences, road shows and round table sessions with senior leaders. Yet although less effective, digital channels are used most often. Organisations are moving away from email in favour of mobile apps and social channels such as Yammer and Jive. But these channels lack both a clear purpose and leadership activity – a major problem. For print, employee magazines were rated most effective and desk drops least.
Choosing how to communicate
For each channel you will have the choice of how you communicate: pushing information out to employees, or enticing them to come and find it when they're ready, for example. This table [4] of channel options summarises some of the possibilities: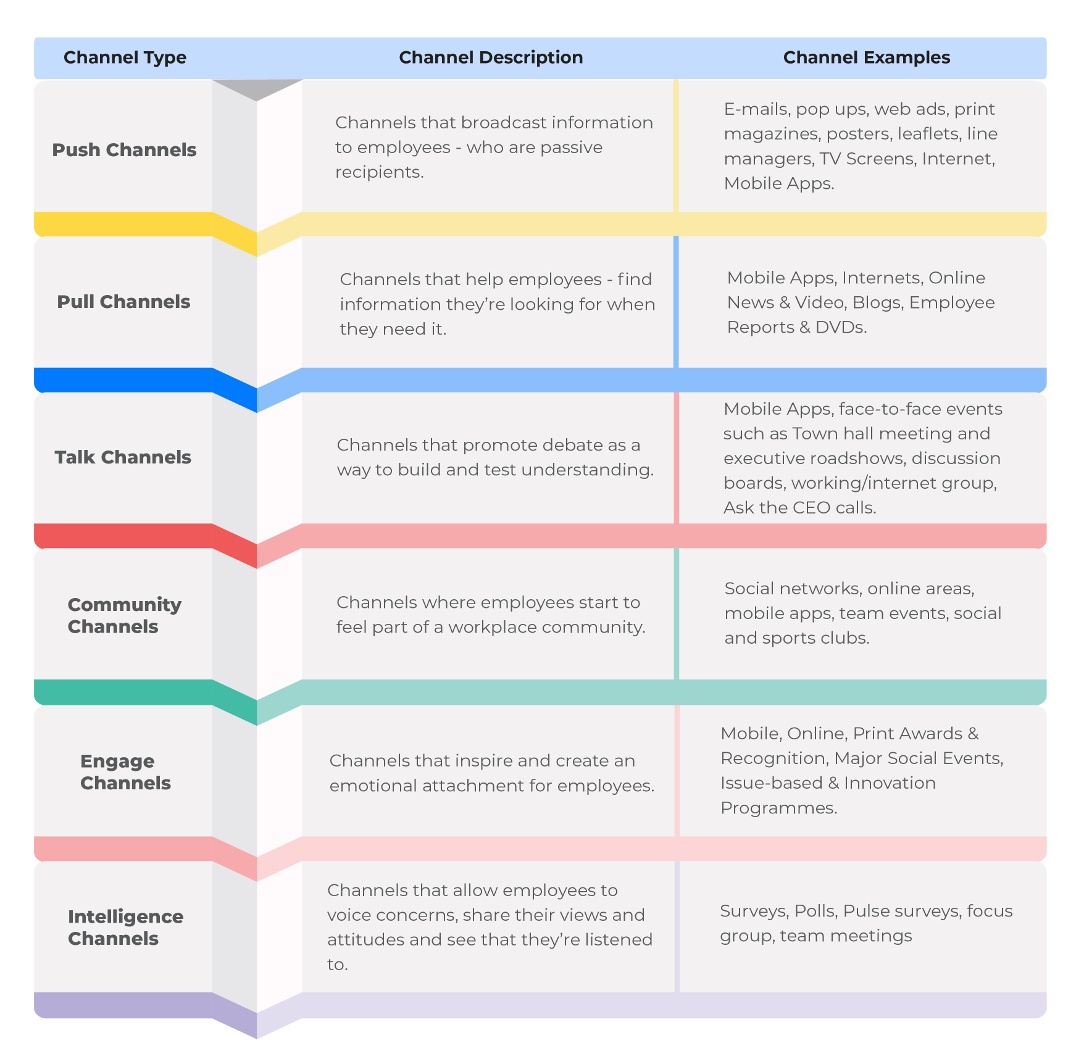 Find out more about internal communication channels
What is employee engagement and why does it matter?
In probably the best definition we could find, David MacLeod says:
"(Employee engagement) is about how we create the conditions in which employees offer more of their capability and potential."
This definition is so important because it puts the onus fair and square on the employer to create the right environment, not the employee to do all the legwork. This shift of responsibility requires an employer to take on the tasks of promoting, creating and sustaining engagement, not just instigating it.
It is perhaps this misunderstanding of engagement as an employee-led process that is causing so many employees to be disengaged for so much of their working lives.
This article explores in more depth the what employee engagement is and what businesses expect it to deliver in practice: What is employee engagement?
Employee Engagement Ideas
Employee engagement is vital for to success of the organisation. Engagement improves productivity and morale while reducing staff turnover rate. For a more effective organisation, implementing employee engagement ideas that work for your team is critical. However, employee engagement requires a range of different tools, activities and solutions.
Success will not usually come from just one idea as all of your employees will respond differently. Instead, deploying a range of approaches will usually be more effective and have a broader reach with your audience.
If you want to improve employee engagement, consider aspects such as:
Strategy – A well-constructed internal communication strategy will give you the foundations of employee engagement success.
Rewards and recognition – Staff turnover increases when employees do not receive praise or recognition for a job well done. Rewarding and recognising your staff regularly can help to increase both engagement and staff retention rates.
Inductions - Comprehensive and well-practised employee on-boarding and inductions make it much easier for new starters to settle in and be engaged with the business from the very beginning.
Charitable giving, fundraising and philanthropy – People love to give back, and fundraising through an organisation can bring employees together as they work for a worthwhile cause.
Innovation and empowerment - Using feedback, projects and challenges, you can increase engagement, productivity and business innovation. This not only helps your staff to feel valued but can also take your business in a new direction.
With all of these ideas (and more which you can find in our longer post), you can deploy them through an employee engagement super-channel: an app. With a highly-functional employee app, it is easy to implement a whole host of employee engagement ideas and see which one works best for you.
Find the ideal employee engagement ideas for your business by reading more here: fantastic employee engagement ideas
Employee Engagement App
Research indicates 58% of companies will consider implementing a mobile app within the next three years. More and more employees are looking for simplicity through technology, and many businesses are turning towards gig-economy, dispersed teams and freelance workers, employee engagement needs to be mobile, accessible and effective.
While an employee engagement app is a low-cost and time effective communication super-channel, it does require investment and the time to set up. With this in mind, it is essential that organisations get it right, the first time. So, what are the key features that your organisation needs? Here is a list of some of the essential elements to check for, before selecting the app for your business.
Three key features to look out for with an employee app
Multi-device – It is wise to choose an app that is compatible with both Android and Apple devices for Bring Your Own Device businesses. This suits remote workers, freelancers and businesses who focus on the gig economy. Furthermore, this lowers the cost of internal communication and employee engagement as you do not have to provide devices for your team

Branding – Making sure you can customise your app to suit the branding and style of your organisation helps to ease the transition to a new communication tool. It also provides a professional finish for your organisation.

Innovate – The ability to encourage innovation through an app can help your business to continually improve and promotes Studies show that high levels of innovation increases engagement and vice versa.
Discover more features for your employee app by reading our guide: Employee Engagement App
How to improve Internal Communication in an organisation
Key points
Purpose, purpose, purpose

Tailor every IC to fit

Leverage senior leaders
Purpose and evaluation
Have a clearly defined purpose and evaluate success against that objective. You should have a concrete idea of what you want people to do, feel and say differently after they have read or seen your internal communication. Link each IC to business goals. You will then be able to measure how effective it has been. Any other approach will waste your time, energy and standing within your organisation.
Right message / right channel
Choose an Internal Communication channel fit for your purpose. Employees would be just as surprised to receive an email from the CEO about a staff party as to get a profits warning in a flyer left on their desk. Whether you use face-to-face communication, digital or print, the message must reach your audience, so consider where/when they will see it. (You might also factor in how much it costs to run on a cost-per-employee basis, and see if it still fits the bill.)
Line managers and senior leaders
Properly briefed, line managers can be a powerful channel of communication because staff are more comfortable discussing new instructions, changes or problems with someone who knows them. It is just as persuasive when top management communicate their vision for the business with authenticity. As an Internal Communicator, you can win the trust of senior leaders by bringing them insight and data about what their people are thinking.
Find out more ways to improve internal communication within your business
Internal Communication Case Studies
Key points
Tailor your approach

Encourage leadership by example

There are different ways to judge success
We took you above through four examples of IC in practice, based on FitzPatrick's 7 Golden Rules [4]. Here we share three more case studies to complete the picture.
Rule 5: I did it their way
Understand the working methods of those you need to convince. If you need to tear up past precedent and innovate, again tailor your IC to the way users like to work.
Case study for good Internal Communication: Seymour House
Seymour House runs ten outstanding childcare nurseries and wanted to get staff across the group engaging better with each other to share great practice.
Rule 6: Make the most of managers
However big or small your organisation, line managers and local leaders are your allies. But the message has to be right.
Case study for bad Internal Communication: Yahoo's Head of HR sent out a motivational memo full of praise for the company's "positive momentum", "the buzz and energy in our offices" … the told staff to quit if they disagreed.
Rule 7: There is no silver bullet
The role of the Internal Communicator remains absolutely pivotal – and cut yourself slack in how you judge success.
Internal Communication case study: XPO – what counts as success?
Read more on all these Internal Communication Case Studies and decide how you rate XPO's engagement score.
Internal Communication Tools
10 Top Internal Communication tools
Blogs: a letter or blog from the CEO, ad-hoc or quarterly, establishing a personal connection with the workforce; a Day in the Life of staff members across the organisation.

Pulse: measure the ongoing health of your organisation with regular and scheduled checkups in the form of eNPS (Net Promoter Score) or a happiness Index.

Recognition: help staff say thank you to each other, link to company values, promote across the organisation and create a culture of recognition.

News: celebrate a company milestone, give staff notice of disappointing sales figures or announce the new Chief Exec.

Tell the boss: the chance for a Q&A face-to-face or comments in writing. Leaders must be prepared to listen and accept criticism.

Innovation: idea capture and management apps to rejuvenate the 20th century suggestion box. See our blog Internal Communications Examples.

Surveys: ask people for their opinions about their job, the company and their work conditions. But senior leaders must act on feedback and make changes.

Competitions: award prizes, but link the challenge to specific business goals.

Reviews: integrate in-house or customer reviews and invite employees to comment and share within a closed secure environment.

Dialogue: two-way conversation, whenever and however you can.
Read more here about Internal Communication tools here.
Internal Communication Apps
Key points
Bring a disconnected workforce together

Build awareness and commitment

Retain good people and support major change
Driving engagement and innovation
Internal Communication apps are a powerful force in driving employee engagement and employee-generated innovation.
In an increasingly digital age, the workforce is no longer confined to the office and it can be a challenge to rebuild company-wide communication. Employee apps can play a transformative role, seamlessly connecting every member of staff to create happier employees, greater productivity, satisfied customers and increased profit.
So how do you convert a disengaged and disconnected workforce into an organisation where every employee knows their contribution is valued? Look for apps that foster Internal Communication through:
News: promote company news in a dedicated feed, creating higher visibility, interest and participation.

Hubs: post information, jobs, knowledge, documents, videos and more to themed boards using easy to create cards

Conversations: build awareness, understanding and the commitment to business goals and change across your organisation

Notifications: send push notifications to smartphone or email users to remind or update them in a timely manner.

Social: encourage participation with familiar social tools including polls, likes, ratings, comments and tagging.

Groups: create open or private groups to filter updates, personalise an employee's experience and make it relevant.
Benefits
The benefits include retaining good people; supporting major change; recognising discretionary effort; and creating brand advocates. Read more about the opportunities offered by Internal Communication apps here.
Internal Communication Campaign
Five tips for an engaging and effective Internal Communication campaign
#1 Use a teaser
Get people interested by building a teaser into your Internal Communication campaigns, so that by the time you officially launch your announcement, employees have already bought into the fact that something exciting/important is coming. You might build tension with "coming soon" hints, or a new logo or image that gets a buzz going around the business. Better than another email.
#2 Get creative
Be bold and try something that will tickle your audience's imagination. A good example of a creative Internal Communications campaign came from insurance giant AXA, which used Valentine's Day-themed cards to re-energise a disaffected workforce. The cards asked employees for one reason they liked working at AXA, and one thing they would change.
#3 Be business critical
Make sure there is a clear link between your Internal Communication campaign and a business-critical decision.
#4 Make it human
Put a human face on what employees might perceive to be dull rules and regulations. You might create a cartoon character, an avatar or designate a named member of staff to front your campaign. This will work even better if you ae running and ongoing campaign and your human face can answer FAQs along the way.
#5 IC or bust
Involve the Internal Communication team at every stage.
References:
[1] John Kotter, Leading Change (1996)
[2] Roger D'Aprix, Communicating For Change (1996)
[3]
Exploring Public Relations, Pearson (2006)
[4] Liam FitzPatrick and Klavs Valskov, Internal Communications (2014)
[5] Gatehouse State of the Sector 2018