When it comes to communicating with employees, there is a clear divide in terms of who is 'in the loop' and who isn't. Office based workers are typically 'in the loop'; they have access to PCs, email systems and the intranet. Non-desk workers, on the other hand, often find out what's happening in their companies days or weeks later, or even not at all.
This is a strange problem when you consider how the working environment has changed. Increasing numbers of employees work shifts and/or part-time, which limits their ability to access company information. And this doesn't even cover workers who rarely or never work in an office, such as employees in retail, agriculture and manufacturing.
Globally, it is estimated that 80% of the workforce isn't desk-bound. So why are many models of internal communications excluding these employees? Crucially, loss of connection can lead to loss of trust, which in turn can badly affect the mutual trust and confidence that is so important to the relationship between employee and employer.
The hard message is that too many organisations either consciously or unconsciously ignore the needs of a significant section of their workers. The result - a disconnected and disengaged frontline workforce.
However, if these problems are remedied, the benefits for both employees and employers are huge.
The Solution for Remote Workers: An Employee App
A 2019 HR Technologist article states that there are three crucial elements in communicating with non-desk employees:
Being able to flex your communications channels - and being mindful of how remote workers want to receive and send information

Understanding how best to use newer mobile-friendly communications software in a way that resonates with your employees

Achieving a personal feel in communications between employer and employee.
The usual methods of internal communication (email, intranet, etc) might be great for office based workers but they're no use to workers who can't readily access a work computer. Because remote employees are mobile, company internal communications tools need to be equally mobile and flexible.
Step forward the smartphone. The ownership rate of smartphones in the UK is 78%, and that rate increases to 95% for those aged 16 to 34. It can therefore make sense to consider adopting an internal communications platform that leverages the kind of technology that will significantly boost the company's reach throughout its workforce.
According to Engage For Success, the only way to communicate successfully with employees is to offer a unified and collaborative communications system. If internal communication is disjointed or lacks the proper reach to non-desk workers, the risk of disconnect within the workforce is high.
Achieving effective internal communication will be easier if your frontline employees can use their phones to give and receive work-related information. Employee apps work by wedding high individual smartphone ownership, usability and people's penchant for social connection and networks to provide a digital space that reaches everyone.
How Non-Desk Workers use Employee Apps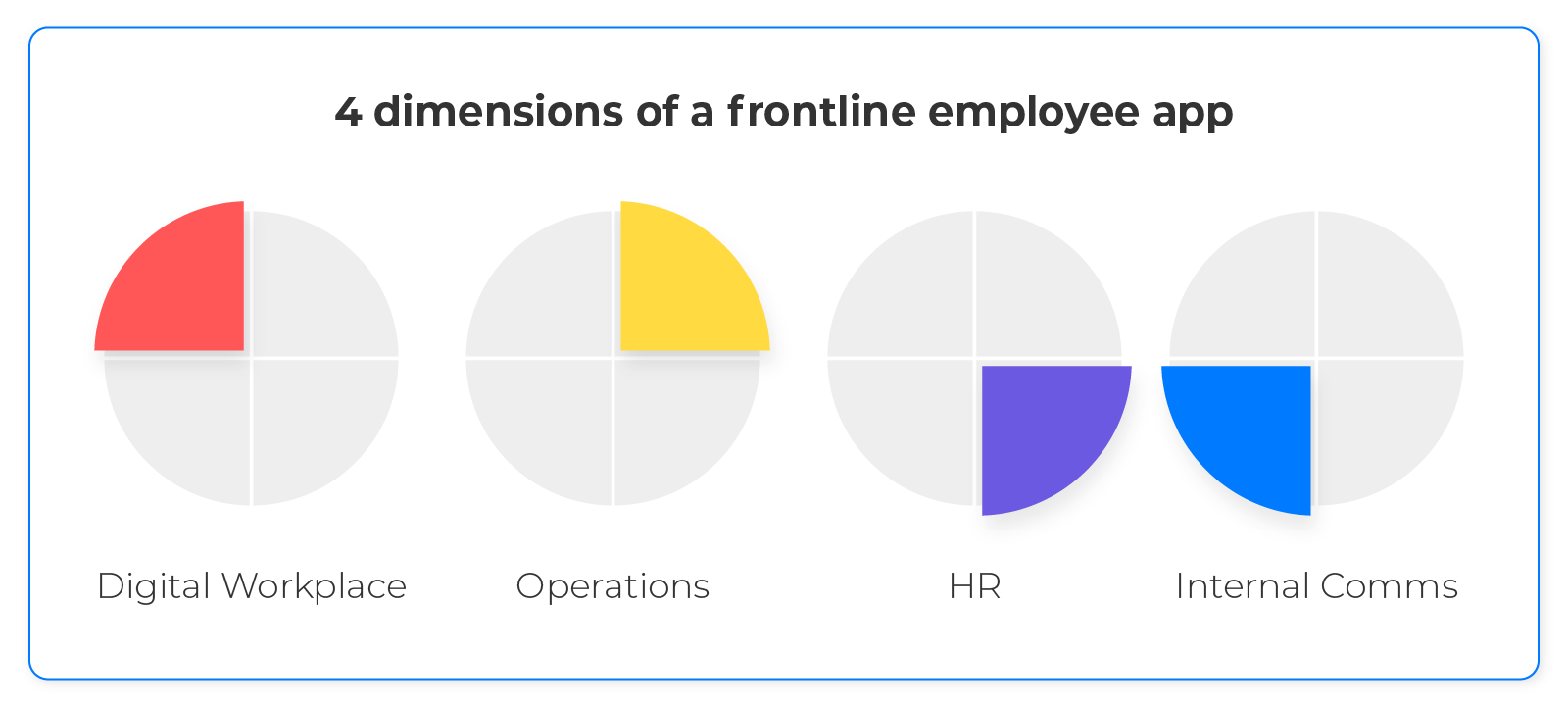 Typically, there are four practical uses that an employee app needs to deliver to frontline workers:
Communications - The app acts as an

internal communication platform

where workers can

receive company messages, stories and announcements in a timely manner. It also improves employee understanding as everyone is getting their information from the same source.

Operations - Employees can receive operations and specific task-based information and use the app's services to check shifts, get answers from managers, etc.

Digital workplace - Workers can have a space to connect, socialise and collaborate with colleagues. If employees can share and connect easily, they will feel as if they are part of the organisation's mission.

HR - Employees can receive staff information and use the app's services to book annual leave, view the training calendar, check internal job opportunities and so on. The HR function within the app can also use softer messaging to improve engagement and motivation.
Connecting previously disconnected and disengaged frontline workers is based on an organisation's understanding of how and what it can deliver in each of these four key areas. Each individual function can bring real benefits to the relationship between employer and employee, but the ability to combine them can maximise the success of communications, engagement and connection of the workforce.
The perspective of the frontline worker is essential to reaching out to them. First and foremost, they want practical ways of keeping in touch and the same engagement channels that office based employees enjoy. A well-designed employee app has the ability to open up a world of connections within the company.
The Employee App: Beyond Internal Communications
The immediate purpose of an employee app is to improve connections with frontline workers. In that respect, it acts as an internal communications app, re-establishing easy communications channels and creating a network of connections that can bind workers and teams together. It helps to make all employees feel more equal by levelling the communications playing field.
However, a really effective employee app goes beyond the delivery of the benefits of good internal communication. Used well, the right platform acts as a catalyst to increase employee voice, encourage participation and manage change. By overcoming the organisation's challenges in communicating with all of its employees, opportunities arise via the app to improve culture, transparency and the achievement of strategic objectives.