Key points from this blog:
Put yourself in your audience's shoes.

If you don't know why you're doing it, don't do it.

Spend far more time away from your desk.
Why you need an internal communications plan
To communicate effectively you will need a plan. A plan that covers:
The value you want to add to your organisation

The people you want to target

How you will get buy-in from them

How you will follow-up
In the words of Fitzgerald:
"In short, communication only happens when you plan it."
From the very beginning you need a razor-sharp understanding of what you want people to do once they have heard your message.
How to make an internal communications plan
Your five vital questions
Whatever you need to communicate, there are five essential questions that will provide the foundation of your plan.
Why: what is your overall business or project goal? This is the critical launchpad, defining what value you are going to add.

Who: who is this specific bit of communication aimed at? What do you want people to do differently as a result?

What: what are you actually asking people to engage with – and why should they care?

When: are other messages or events going to overshadow your timing? Do you need to get a message out there urgently, or can you afford to wait?

How: what channels will work best for the content and the audience you have in mind? And what style should you use?
You will also need to track whether you are making progress towards your target or whether you need to tweak your plan and reshoot.
Why
As you start to plan, your first essential step must be to consider: a) why you want to communicate this message and b) what you hope to get out of it.
At this point you may need to work through different views from different stakeholders until you agree on a common end goal.
Once you have strong, clear objectives in mind, the rest of your plan will fall into place more easily.
Big point: if you cannot nail down what you actually want to change as a result of your communication, there is no point in doing it.
Who
Who is this for? And how do you make it relevant to them. Your target audience have a lot on their minds, from the details of the task they have in hand to worries about what the future has in store for their job, to personal matters bubbling under such as their plans for the evening. To get attention you will need to understand your audience and what information they will find interesting/important.
You will probably need to segment the audience into pretty specific groups, for example:
Age/stage: pensions communications will require a different approach for graduate trainees from those approaching retirement.

Location/culture: employees in HQ or working remotely.

Attitude: are they feeling well disposed towards the organisation or betrayed by the last pay freeze?
Do not expect all the employees you have assigned to a certain group for targeted IC to agree on everything, however. The catering staff, accountants and customer service team may all work in the same building but will have different concerns and priorities.
What
Start by putting aside details and concentrating on the core idea you hope employees will understand and be inspired by. It's simply being very clear about the main point.
You also need to factor in "Why should I care?" Staff will see everything you are saying through their own prism. For example:
Will I still have a job at the end of this?

Am I going to have to change the way I work?

Is this yet another brilliant idea from HQ that ends up going nowhere?
Your communication will work best if you have already honed down some outcomes that will interest them. Ideally, their job is going to become easier … and more enjoyable ...
But on the other hand, some communications will have no silver lining, so do not expect to be able to put a positive spin on everything.
Need to know:
Developing your plan, there is a useful breakdown you can use to work out what information you will have to communicate to get the action/change you are seeking.
It is called Know – Feel – Do:
What your audience need to know for them to agree with or at least see the reasoning behind the action/change.

What they need to feel or believe, to be ready to do it.

What you want them to do as a result of the communication.
This logical approach will help define the outcome you want and your path to get there.
When
You will need to make sure that your timing does not conflict with big news events already in the corporate diary. Timing is also crucial when it comes to a sensitive announcement such as job losses where there is a fine line between announcing too early with incomplete information, and leaving it too late until the rumour mill is in overdrive. The general rule is that it is always better to communicate that you have nothing to say, yet – than to say absolutely nothing at all.
How
This is about deciding the best channel to use. You will be looking at a panoply of options including engage/pull/push/build … about which you can read more here. Link to Channel Sub Topic.
Choice of style:
you might opt for a factual style to create awareness of a new canteen menu.

or in totally different circumstances, use a motivational style to secure buy-in for a move to new premises.
Example Internal Communication Plan
To make things happen you need to be clear about the resources at your disposable and who will be responsible for each part of the plan.
This example was inspired by FitzPatrick [1]: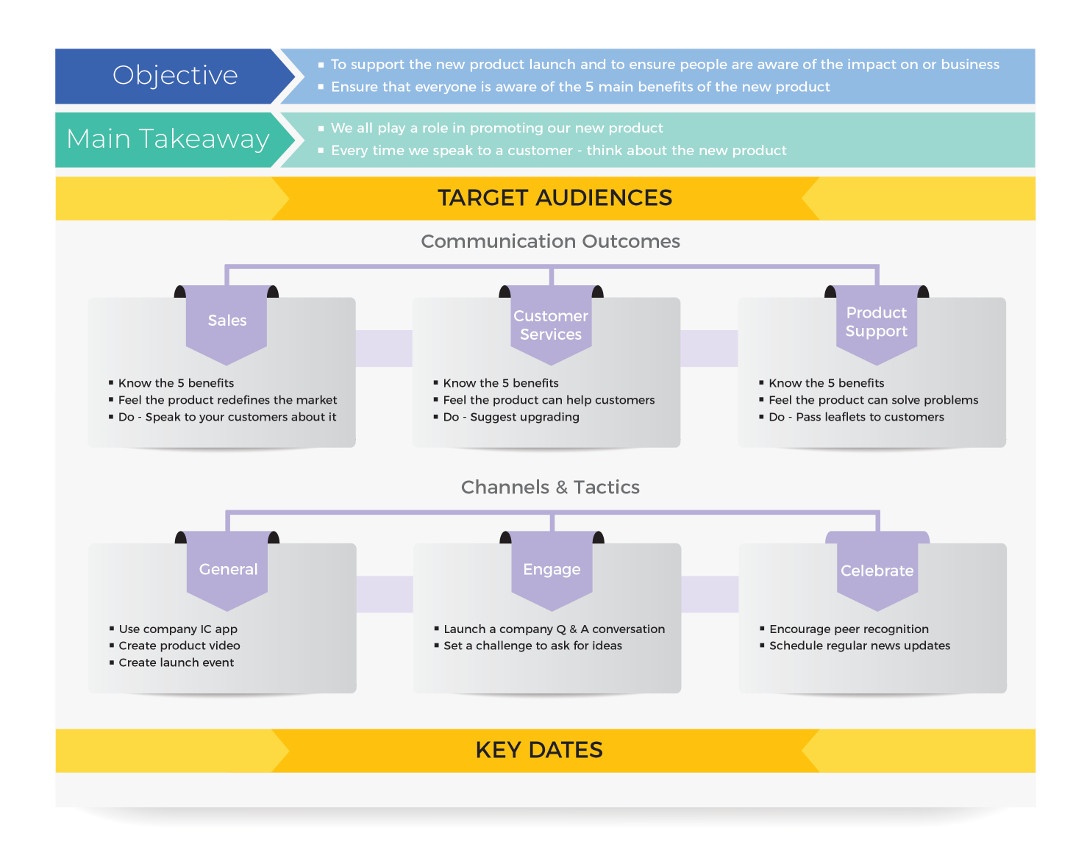 Following up
The best IC plans include tracking, evaluation and collecting feedback on the progress you are making and then the results you have achieved. You obviously want to be able to show colleagues and senior leaders that your work is effective … but there are wider benefits, too.
Tracking allows you to monitor progress and then adapt your message, speed up/slow down or try different channels. Evaluate results after every communication to see what people have actually changed and how they feel about it.
3 common pitfalls to avoid:
Overload. People find it hard to absorb multiple or complex messages, so keep it simple.

Disconnect: understand the daily reality of their job by spending half your time away from your desk, talking/listening to employees to find out how your organisation works.

Me, me, me: you want your IC to be their top priority, but remember to take into account other projects and changes crowding in on them.
If you want to find out more about internal communications click here
[1] Internal Communications, A manual for practitioners, Kogan Page (2014)