Many creative and innovative organisations are turning towards an employee engagement app as a super-channel for their internal communications. But, what should your business look for with an employee engagement app? Here are seven key features to seek out.
If you are looking for employee engagement ideas, then an employee engagement app can be a fantastic solution for your organisation. Engagement is critical to organisations, it not only improves employee retention rates but customer retention rates too. An employee engagement app can almost become a one-stop solution for employee engagement. After all, an app is a 'super channel' it connects people in a variety of ways from chatting to videos, intranet to email.
However, before you commit to investing in an employee engagement app, it is important to get it right. Make sure to look out for these critical aspects to ensure you can maximise the potential of your employee app.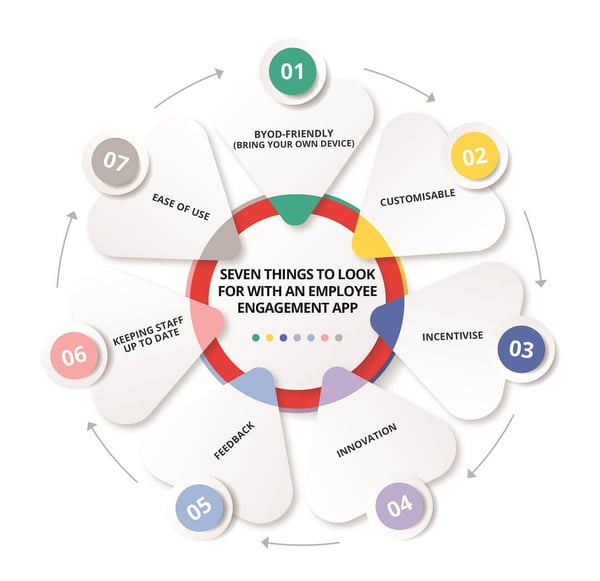 1. BYOD-friendly (bring your own device)
More and more businesses are adopting a bring-your-own-device (BYOD) culture as opposed to purchasing phones and other technology for their workers. With this in mind, it is essential that the app you select is suitable for a range of devices. The app should optimise accordingly for smartphones, tablets, desktops and everything else in between.
Furthermore, the app should also be suitable for Android and Apple to encourage as many people as possible to take advantage of the app to increase engagement. It is also wise to consider a mobile-first approach when considering an app; you may need to adapt your website and other employee systems to suit mobile devices.
Remember bad layout, non-functioning links and scaling issues will cause employees to become disengaged, so make sure everything can be scaled to suit the size of the device.
2. Customisable
As your employees are your brand ambassadors, it is important that there are exposed to your brand as much as possible. With an employment engagement app, some developers will give you the chance to customise the app with your company's branding. This can include your logo, colours and the features that are included.
A customisable app means that you can pick and choose the features, modules and functions that will benefit your organisation and remove the unnecessary features. It may be beneficial to utilise all of the functions an app provides to begin with, and then use analytics and feedback to work out which are the most used functions, and which are redundant.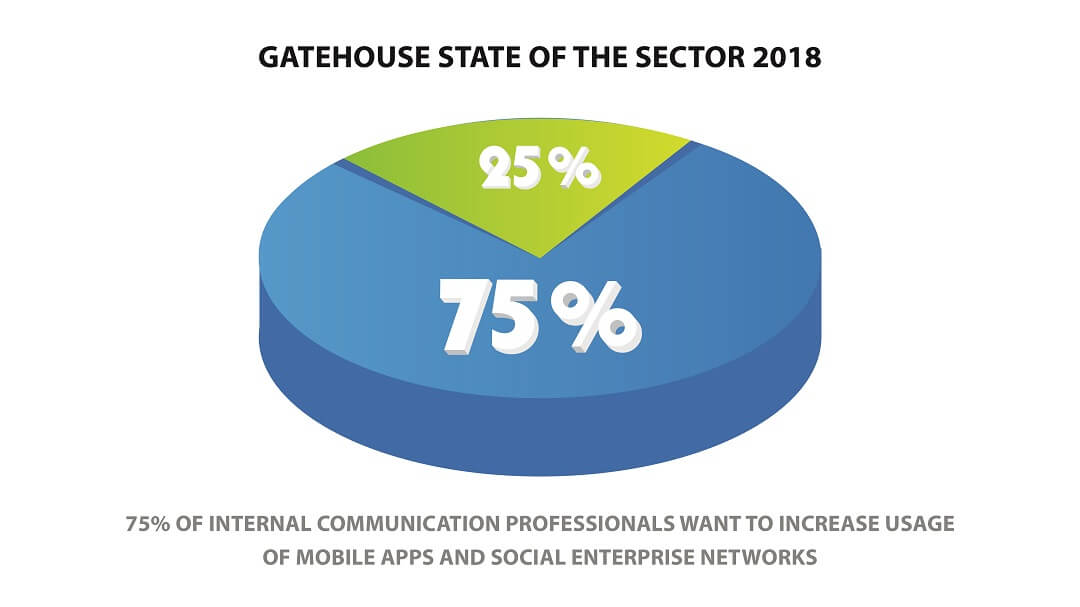 3. Incentivise
Incentives are an excellent way to boost employee engagement. From free coffees to discount vouchers, perks to badges to collect, an employee engagement app can have the capability to provide incentives. If you want a convenient way to offer incentives to your employees, an employee engagement app is a fantastic way to distribute coupons, access to free gifts and rewards.
If you do offer incentives through an app, then it is important to encourage employees to check the app regularly to make the most of the offers and to make sure they don't miss out. Incentives can also be a fantastic way of encouraging engagement with the app itself and should be considered during the roll-out of the app to spark conversation and promote its use.
4. Innovation
Undoubtedly, a significant focus for any business is their ability to innovate. An employee engagement app should align with the business focus of innovation. Furthermore, an app can even enhance business innovation too.
Engagement and innovation go hand in hand. By offering employees the channels to be innovative and share their ideas, you will encounter higher levels of engagement. Similarly, by encouraging engagement, you also promote innovation. In fact, a report in 2009 by McLeod found a distinctly positive correlation between high levels of innovation and high levels of engagement in businesses.
If you want to boost both innovation and engagement in your organisation then finding an app that facilitates both of these is essential.
5. Feedback
To maximise engagement, it is essential for organisations to assess the level of employee satisfaction. This should not just relate to the employee engagement app itself but to broader aspects of the organisation. The app can be used to seek feedback on projects, processes, new ideas or general organisational structure.
Seeking feedback not only enables you to make changes in the organisation but it also creates a culture in the organisation where communication is encouraged, and that thoughts and feedback can be voiced. It is important to make employees feel comfortable enough to share their feedback or even concerns. An app can be an excellent way to do this, as long as it (and other team members) are treated with respect.
Feedback channels through an employee engagement can be shared, sent directly to leaders or provide overall analytics that can help an organisation improve.
6. Keeping staff up to date
If you want to encourage communication and engagement through an employee engagement app, then it is essential to consider whether your app will offer notifications. Notifications can help to boost participation as well as encourage productivity.
Notifications can cover a range of different aspects such as letting people know about special events the organisation is hosting, technical issues and downtime notifications.
If the app does offer notifications, then it is wise to use them with caution. Some organisations will appreciate notifications about peoples' birthdays or new training available. However, larger organisations may want to restrict the aspects that have a notification because too many notifications may irritate employees and they will subsequently become disengaged.
7. Ease of use
Finally, it is important to consider the functionality of the app. With this in mind, it is a good idea to conduct a free trial with an app before committing to the product. Having a focus group trial, the app to see its functionality and how user-friendly it is can ensure that you select the most suitable product for your organisation.
An app will be useless if people do not find it easy to use. Furthermore, the app should show how it can benefit people. Whether the app makes it easy for people to access information or speeds up communication between colleagues, the advantages should shine through quickly.