Ensuring that your employees feel that they have a voice within your company, and that that voice is listened to, is key to your employee engagement efforts. Without a robust employee voice strategy, you risk increasing the disconnect between employer and employee.
Addressing issues surrounding employee voice will enable you to better engage with your team and encourage innovation in the workplace. Creating a culture that will serve to underpin the success of your company.
Employee voice definition
So, exactly what is employee voice? Essentially, employee voice is the means by which an individual communicates their opinions and ideas to their employer, and how these views are then utilised to influence the company moving forwards.
This means that employee voice is a lot more than simply providing your employees with a way in which to communicate. It is providing your team with a range of platforms and opportunities to communicate, and actively engaging with what your team has to say by utilising their views to guide strategic plans and company direction.
The benefits of employee voice
When an employee feels able to share their views and concerns with an employer, the benefits can be far reaching. By encouraging your team to share their opinions and ideas, you create the potential for your employee voice mechanisms to drive innovation, provide an early warning for emerging issues, identify training needs and increase work engagement as well as organisational engagement.
Statistics show that employees who feel their voices are heard, are 4.6 times more likely to produce their best work. This direct correlation between employee voice and productivity is a clear sign of the impact that an employee voice strategy can have on your business, and why it is one of the essential drivers of employee engagement.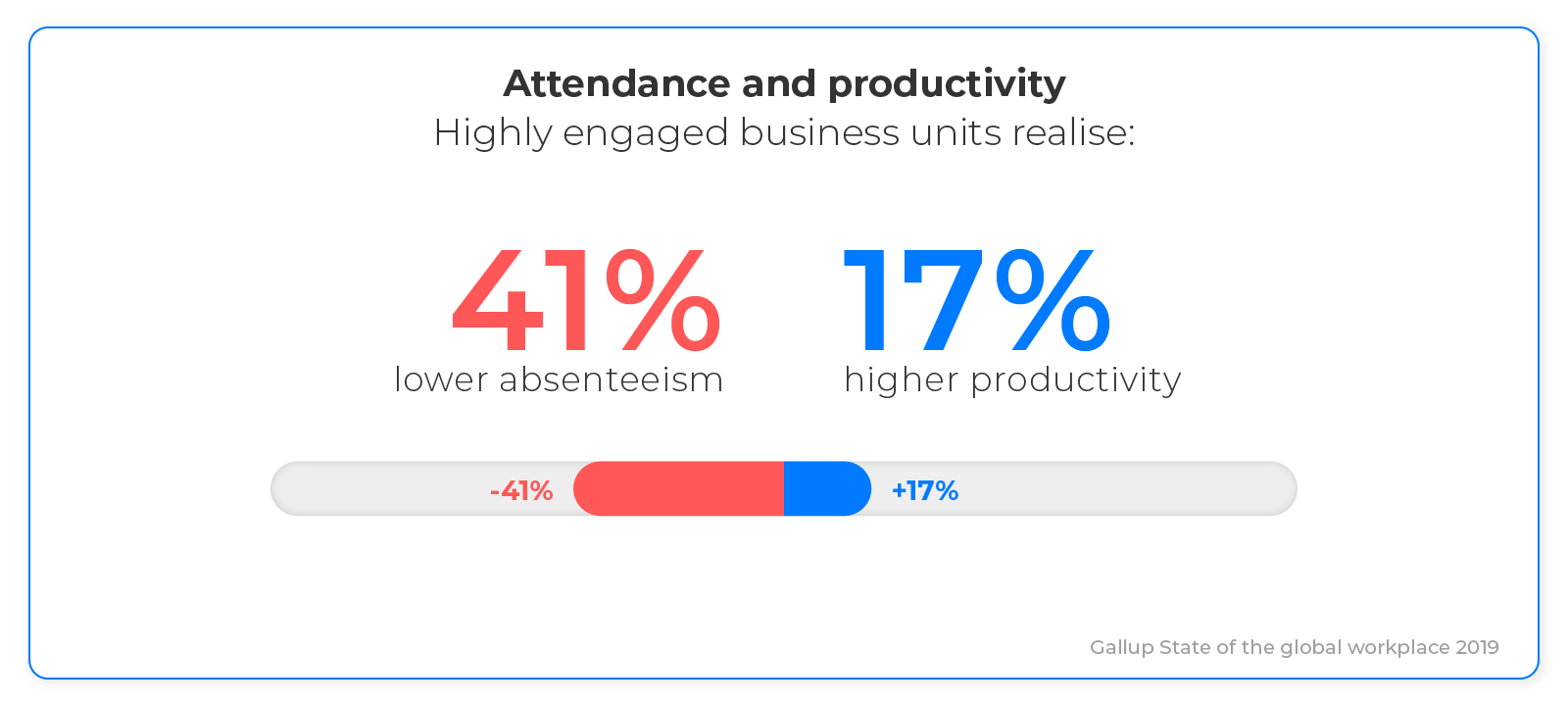 The different forms of employee voice
Implementing employee voice systems into your company culture, is essential to improving employee engagement levels. However, identifying the best ways to promote employee voice within your organisation may be a challenging prospect. The employee engagement ideas that we have outlined below, will ensure that your employee's voices are heard, and instil a culture of engagement.
Surveys
Utilising surveys to check on specific company areas, is a simple and effective way to encourage your employees to have a voice within your company. Scheduling surveys that use a mix of multiple choice and written responses, will enable your team are able to fully express their views and ideas, providing you with a clear understanding of any issues, and insights into how to move forwards.
Implementing an employee engagement app is an effective way to circulate and manage an employee engagement survey. A robust system will provide you with detailed tracking and analytics on your surveys, giving you the insights that you need to drive change within your organisation.
Innovation meetings
Introduce meetings that are purely designed to encourage innovation. These meetings are often best led by an employee who is not part of the leadership team and can be done on a rota basis. Ask your team to come armed with an idea, no matter how big or small, and ban all tech from the meeting - if everyone's sitting around a table staring at their screens, it becomes difficult to innovate.
For these meetings to work, it is essential that you are inclusive of the entire team, otherwise your team may feel that only certain voices matter, which will negatively impact on employee voice and employee engagement levels.
Feedback
Inviting your team to give regular feedback, whether that's face-to-face, or via a designated platform, is a tried and tested way to encourage employee voice and keep your finger on the pulse of your company. This information can then be used to guide company policies and direction.
Keep in mind that some employees may find it difficult to use their voice, and share opinions, if their name is linked to their views. It may be worth considering giving your employees the ability to share feedback anonymously to get a true picture of your organisation.
One-to-ones
Regular one-to-ones are essential to increase employee engagement levels, and promote employee voice. Providing your employees with the opportunity to guide their own development and share any challenges or ideas with you in a confidential setting, will ensure that they feel listened to and valued.
Allow your one-to-ones to be guided by your employees, so that they can realise their full potential. Giving your team the autonomy to identify training needs, and career progressions paths will show them how much you value their opinion.
Company-wide discussions
Scheduling in organisation-wide meetings to encourage innovation and idea sharing, is key to increasing employee voice and engagement levels. Use these meetings to ask your team what they think the direction of the company should be, and what steps are needed to be taken to get there.
Too often companies fall into the habit of making plans and creating strategies, without the input of the people who will be working to achieve these objectives. Encouraging your team to have a voice, and guide high-level strategies, will show your employees just how much you value their opinion, and help you to identify new and innovative ways to progress your company.
Implementing change
Utilising the strategies above, will provide you with a solid foundation to encourage employee voice and identify innovation and issues. However, an employee voice strategy is only as effective as your follow-through. If you don't make a conscious effort to compile the insights that you receive, and use them to guide company policies, plans or culture, your strategy will come across as an empty effort to tick a box, rather than a real desire to improve employee engagement.
Introducing software such as an employee engagement platform, will provide you with the solution that you need to keep track of engagement levels, and promote employee voice. A successful platform will provide employees with numerous communication channels to provide feedbacks, allow employers to create and circulate simple yet effective surveys, and provide detailed insights and analytics into the pulse of a company. Implementing a solution such as this will serve to underpin your employee voice and employee engagement efforts, enabling you to realise a culture of innovation, knowledge and interaction.