Key points from this blog
Internal and External Communication have different audiences and different messages
But they need to work in harmony for business success

And the distinction can sometimes be blurred – very effectively
Definition of Internal and External Communication
Defining the differences between Internal and External Communication can sometimes appear to be stating the obvious.

Thus:
Internal Communication takes place among the members of an organisation, while

External communication occurs between the organisation and the outside world.
Taking this a stage further, internal and external communication are both vital to the effective functioning of the business. The first is used to guide, inform and motivate individuals to work at their best for the organisation's success. The second is key to its reputation in the business world and society at large, and is about presenting a good image to the public.
We can further differentiate Internal and External Communication by considering:
Purpose

Means

Audience

Frequency

Scope
However, there are important common factors that apply to both forms of communication, and there are times when the difference between the two is blurred.
1. Purpose
The purpose of Internal Communication
To talk and listen to the members of an organisation, department or unit for business purposes. Knowing their role in the overall picture helps employees to stay on track and creates a better working environment. Internal Communication sets out and promotes the objectives of the business or a project; it devises plans to achieve these goals; helps train employees; and leads and motivates them to be their best while they are at work.
The purpose of External Communication
To connect to or disseminate information to external audiences. This will shape their views of and trust in the company or brand. Effective External Communication can help control negative information about the business in times of crisis or PR disaster, open a dialogue and put in place a strategy for speaking to the media.
2. Means
Means of Internal Communication
Internal Communication can be:
Formal, passing through predefined channels.
Informal, flowing in every direction as a result of individual/group needs and concerns.
Internal Communication uses staff newsletters, presentations, minutes of meetings, video clips, seminars, employee engagement apps, Q&As, workplace manuals, etc. It can be fact or opinion, depending on circumstances.
Means of External Communication
External communication is usually formal (though that does rule out humour) and highly documented. It uses online, print, television and radio advertisements, customer feedback material, websites and social media, invitations, operating instructions, annual reports and business-to-business White Papers. Press releases, such as to announce a new CEO or publicise a charity partnership, are intended to gain earned, rather than bought, coverage.

3. Audience
Audience for Internal Communication
The audience for Internal Communication are members of staff, the company's management and senior leadership. It transmits information between business units, departments, Head Office, multiple sites and remote workers.
Audience for External Communication
External communication concentrates on maintaining relationships or exchanging information with customers, suppliers, the general public, shareholders and investors, creditors, prospects, regulators and government.
4. Frequency
Both Internal and External communication are regular but usually Internal Communication will be more frequent than External Communication.
5. Scope
Internal Communication flows within the business.
External Communication flows in society at large.
The importance of working together
Internal and External Communication have to work together because it is essential that employees have guidance on what information they can share outside the organisation, who to share it with and how to share it.
"Internal communication helps businesses to stay on brand and keep control of the message. By having a strong brand promise that is communicated internally, employees have a better handle on talking with customers and other external parties. With communication that leads to clear goals and well-trained staff, businesses have a better chance of ensuring that customer interactions are positive."

[1]
Sharing contradictory information with staff and investors, on the other hand, can lead to mistrust and potential legal action. What's more, both Internal and External Communication suffer from messages that are over-complex, badly written, wrongly times or too vague to be useful.
A unified communication policy can help with a new product launch or brand message, by creating talking points for both external and internal use at the same time. Motivating employees to do a great job has evident benefits for customers.
When distinctions are blurred
Lines of communications become blurred when organisations blend audiences for social media campaigns, or undertake a listening exercise that covers both employees and customers. Here are three examples:
Nationwide Building Society's "Big Conversation".

Royal Mail's staff-focused website www.myroyalmail.com combines a survey about new uniforms with content of interest to the general public, such as news from the CEO and performance information.

HSBC NOW. This HCBS Twitter feed uses social media internally to talk to staff and externally to promote the bank and interact with customers. As the bank explains: "HSBC NOW is about the people who work at HSBC. These are our stories. Ordinary people doing extraordinary things". The platform gives a voice to employees, shines a spotlight on their achievements and presents the human face of the bank; at the same time it creates a positive impression for the outside world of a diverse, exciting and enthusiastic business.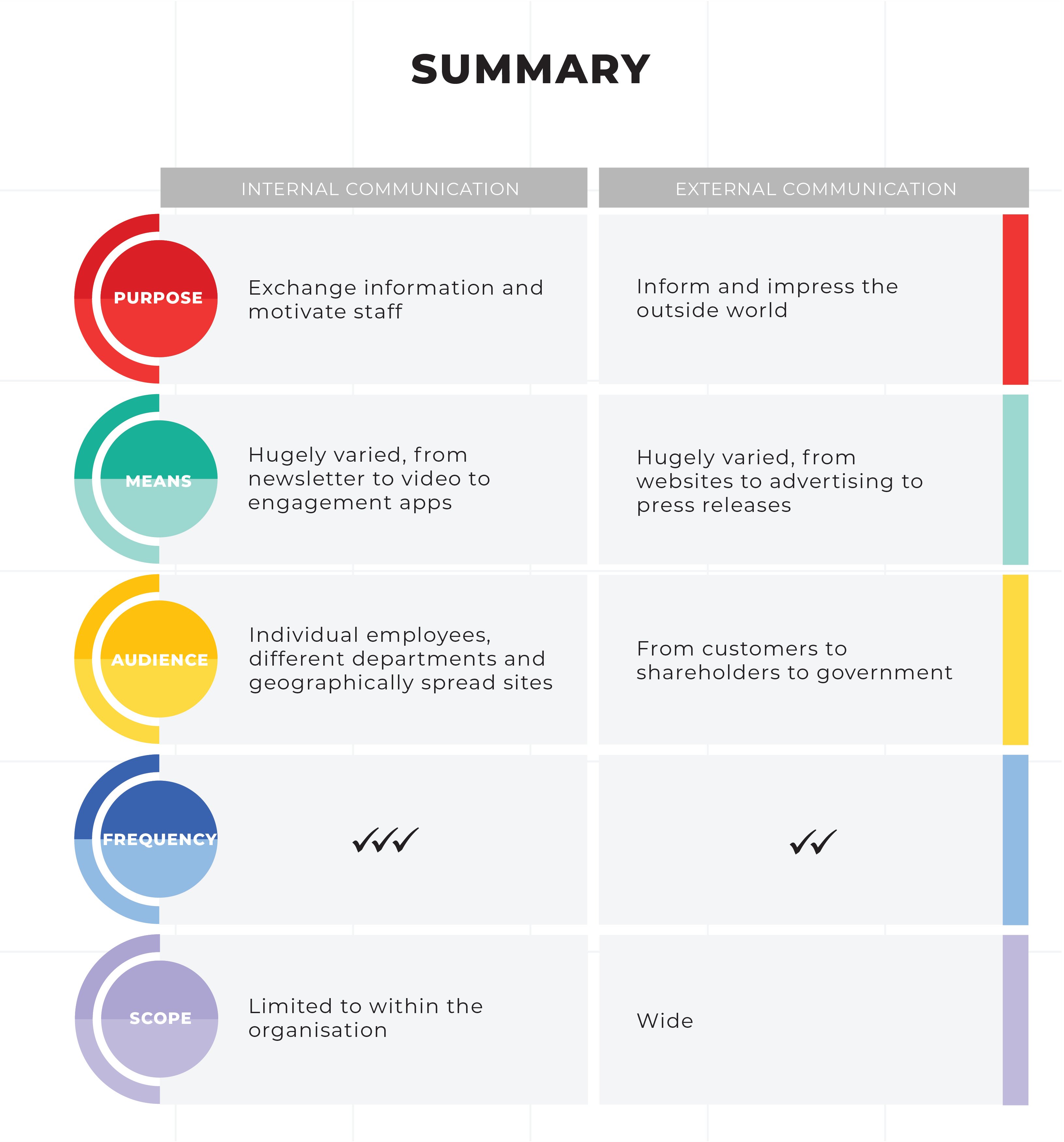 [1] bizfluent