Why do you need a definition? Because employee engagement is more far complex than simply ensuring your employees are happy and satisfied.
Happiness is definitely part of the formula for successful employee engagement, but there are many other elements to consider as well. For example, a happy employee can cheerfully turn up to work and get on with the tasks of their job, but still put not put any extra effort into their role, or care about the overall success of the company. You need your employees to feel an emotional commitment to the business and its goals.
In addition, every business will have different requirements from their employees. Some may be going through a period of rapid growth and need staff to feel motivated and involved in the change taking place around them. Others may have multiple teams working across the organisation and require a close understanding and cooperation between these disparate sets of employees.
In short, employee engagement isn't just a one-size-fits-all blueprint. It's a formula that needs to be adapted and personalised to suit the unique needs of your organisation.
The 10 Elements of Employee Engagement
So, how do you go about creating your own unique definition of employee engagement? Over the years, Talkfreely have delivered employee engagement solutions for a myriad of national and international companies. In doing so, we have identified the 10 key elements that improve employee engagement. Take a look at the list below and consider which of these are best aligned to your business goals.
.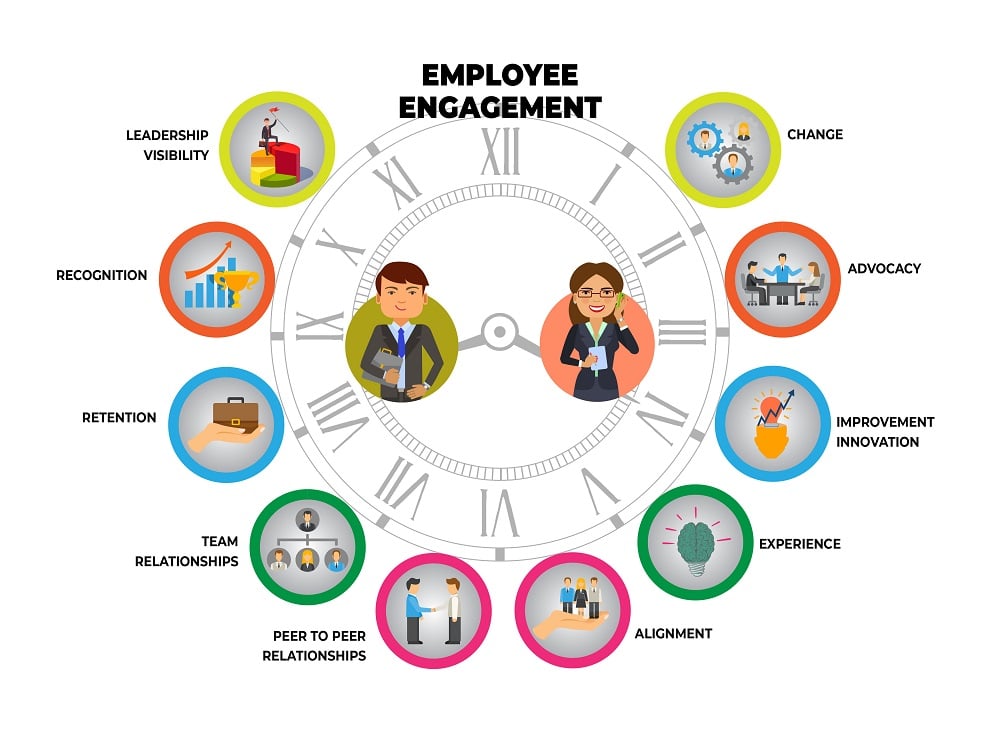 #1 Change
Goal: Your employees feel part of the change, not subject to it.
In any company, change is inevitable. At some point, there will be a need to change organisational methods, structure, technologies or strategies. There may be an office move required, or even a company takeover. A period of change is often a taxing time for employees, with over half reporting increased stress levels.
The key to success is ensuring that your employees feel actively involved in shaping the future.
#2 Advocacy
Goal: Your employees actively promote your organisation at every opportunity through a genuine belief in the products/services.
What your employees share about their working day, new initiatives and company developments via their social media profiles and networking events is instantly credible. A successful employee advocacy programme will organically increase web traffic, boost social media engagement, gain contacts on LinkedIn and generate new hires and sales leads.
When it's working well, you'll find employees are your most authentic brand ambassadors.
#3 Improvement / Innovation
Goal: Your employees can see the value they have contributed to the organization.
If your employees are challenged by new tasks and encouraged to think creatively, it will increase employee engagement. Take employee ideas seriously. Turn promising ones into active projects and keep the workforce updated on progress. There's nothing more encouraging than knowing your ideas and efforts have a genuine impact.
A workplace centred on improvement and innovation will be a highly engaged environment.
#4 Experience
Goal: Your employees have an overall feeling of satisfaction, fulfilment and daily enjoyment.
Employee experience can be summed as anything that impacts upon an employee's experience of the organisation they work for. This includes the company's vision and values, how it treats customers, employee policies, on-boarding processes and the company culture, to name just a few.
In order to address experience, the logical starting point is to map out the entire employee journey.
#5 Alignment
Goal: Your employees understand and buy into the vision, values and goals of your organisation.
Walking the talk, living the values, all aiming at the same goals: these all are daily proof that employees are truly engaged with the company at a fundamental level. Note the need for understanding. Otherwise goals become sales targets and values become merely rules.
Employees may obey rules from a sense of obligation, but they are deeply engaged when they embody values.
#6 Peer to Peer Relationships
Goal: Your employees feel strong bonds of camaraderie and loyalty with their peers.
Positive peer relationships are vital to creating work engagement. Employees with friends at work who regularly celebrate their contributions and achievements are more likely to love their job. They are even more likely to love the company they work for.
Quite simply, work friendships increase job satisfaction.
#7 Team Relationships
Goal: Your employees are kept informed with strong, clear lines of communication.
If your organisation includes geographically and departmentally disperse groups of employees, you'll need to implement a systematic approach to team relationships. The key is to eliminate information silos, where information isn't shared between departments or divisions.
Embrace a culture of communication and support for cross-departmental work. In short, get people talking.
#8 Retention
Goal: Your employees want to stay and progress within your organisation.
Retaining skilled employees is critical to the success of your company. Retention results from successful employee engagement and in turn supports the on-boarding and engagement of future employees. It enables relationships to develop and flourish and for teams to bond and co-operate more easily.
Your organisation can only move forward with a skilled and experienced team in place.
#9 Recognition
Goal: Your employees are recognised for their achievements and contributions.
Ultimately, people want to feel good about the work they do. Employee recognition and reward does more than acknowledge contributions. It sets new higher standards, builds confidence, reaffirms status and rewards skills and innovation alike.
Implement both managerial and peer recognition to make it easy for employees to see how their contributions benefit everyone.
#10 Leadership Visibility
Goal: Your employees see that all senior management are active, involved, approachable and engaged.
In larger organisations, the senior managers can often become distant figureheads. But, handled correctly, senior leadership should play a significant role in defining the culture and direction of a company. Their attitude and approach is a powerful influencer.
Remember employee engagement applies across your entire organisation, bottom to top, side to side. Leaders are employees too, after all.
Making Employee Engagement Happen
As you read this list, it was probably already apparent to you which of the elements are important for your business right now. You're now set to draw up a unique definition of employee engagement that will help you support and provide for your employees.
However, defining the elements for successful employee engagement strategy is one thing. Implementing it is quite another. In our next article, we'll look at how to increase employee engagement by achieving all the elements above using the right enablers and underpinning activities.
It is worth noting that underpinning any successful employee engagement program is an effective employee communication platform. Have a look at our page Internal Communication: everything you need to know.