During the coronavirus pandemic, there has been lots of media and HR focus on transferring employees from offices to home working, covering a multitude of issues to keep them happy and productive. But what about frontline workers? What employee engagement improvement ideas need to be deployed to counteract the additional complexities for those who work remotely or in the community?
The fact is that increased isolation was a challenge to employee engagement before the pandemic hit. Millions of people work in the community or in private homes (for example, social and domestic care workers, engineers and trades people) and many organisations manage multi-site operations, from retailers to charities.
The pandemic, however, has made people look for increased connection and sources of certainty, and their employers can take this opportunity to figure out how to improve staff engagement and become a symbol of trust to their employees.
According to the Chartered Institute of Personnel & Development's communications guide during Covid 19, many organisations had to learn quickly to improve their digital communications routes with employees. Great communication is the number one factor in how to engage employees during uncertain times.
Highlighting Safety Improves Employee Engagement
Because of the virus, safety has become the number one topic of concern for employers and employees. A Chartered Institute of Personnel & Development survey commissioned in May 2020 revealed that 44% of employees felt anxious about returning to their normal place of work. And the Office for National Statistics reported in June 2020 that 69% of adults felt very or somewhat concerned about the effects of the pandemic on their lives. These mental health problems are creating, or have the potential to create, downturns in employee engagement and performance.
These are depressing statistics. However, employers can and do find ways to challenge the barriers to employee engagement during difficult times. Publishing a comprehensive wellbeing and safety plan will help employees to feel less isolated or give them confidence when dealing with customers.
By using baseline values of honesty and trust, employers can find the positives among the challenges by emphasising the strengths of their people. Combine that with increased visibility (even if it's virtual) of the company's leaders, and engagement can flourish from optimism, clarity and trust.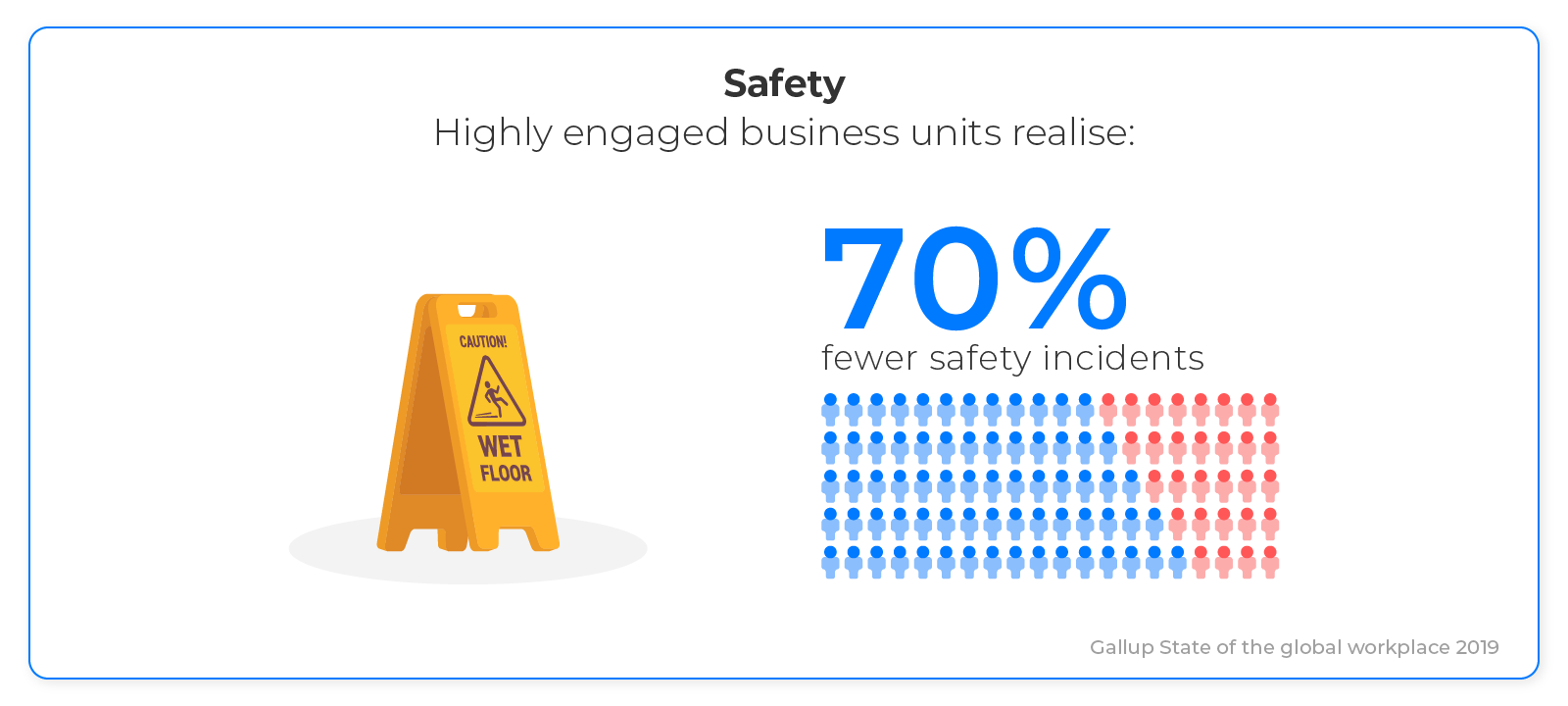 The foundation of employee engagement is the health of the psychological contract between employer and employee, with change generally affecting that contract profoundly. Covid 19 is forcing businesses to make huge changes so a thorough but flexible communications strategy is needed to explain what it is happening and, more importantly, why it is happening. This will reduce the risk of conflict around such potentially contentious matters as workplace surveillance and tracking employee movements. When a company's workforce is split between home workers, office workers and those working between premises, employees need to understand that keeping track of them is part of a company's duty to keep its them safe.
If a workforce is separated or even feeling disconnected, instilling a sense of safety is a key part of how to improve employee engagement. It is down to the company to identify any required changes to the drivers of employee engagement in this new working environment.
Employee Engagement: How to Improve the Culture During Covid 19
A company's culture doesn't sit within its offices or factories; it sits within its leaders and its people. Businesses are learning that they need to maintain their efforts to keep their staff engaged, but that they may need to do things differently. If venues can organise virtual comedy nights, organisations can use a good employee engagement platform to manage recognition, celebration and even social events at a distance.
There is little doubt that the disruption caused by the pandemic has made improving employee engagement more challenging. However, adopting a Covid relevant employee engagement strategy should help to maintain motivation, performance and a resilient culture.
Unfortunately, some aspects of employee engagement initiatives often fall by the wayside during times of crisis. Strong companies, though, will make the effort to maintain its core commitments. Some 'how to improve employee engagement' tips include:
Staff development opportunities - Professional online learning has flourished during the lockdown, offering new avenues to companies. A revised learning and development plan, including remote learning, could be an important way to improve employee engagement.
Continuous improvement - Periods of uncertainty can actually be fertile ground for radical ideas from employees, so it is important to continue to encourage suggestions and feedback via an employee engagement survey. This could include a section on how to improve employee engagement ideas to ensure that the company's thinking is aligned with its employees' needs.
Strategic growth - It's understandable that companies have gone into survival mode, but messaging on how the business is still striving to reach its goals will reassure employees that they work for a successful company and will improve staff engagement.
Leadership Values to Improve Staff Engagement
Similarly, it's essential that company values are maintained and, indeed, given even higher prominence to improve employee engagement. According to the Chartered Management Institute, emphasising the company's values to employees is an important part of leading the workforce through tough times.
Values are demonstrated by everyone in a company, but the leaders are the role models. Senior managers have to engage in rational thinking when there is so much confusing information on TV and social media on what is safe and what isn't. When it is likely that work practices will change for frontline workers as the pandemic progresses, a channel such as an employee engagement app can support the communicating of the company's values and how important they are in supporting everyone to stay safe and well.
In essence, leaders have to act in some way like governments by assessing the available scientific and medical advice and deciding how best to implement a strategy to protect the business, its employees and its customers. It's crucial to have clear messaging around that strategy, including steps to improve employee engagement.
It's equally important, however, to recognise that plans will have to change as the pandemic environment does. Having flexible and responsive communications channels with employees means that companies can update staff, encourage employee voice and increase employee engagement.
Highlighting the company's values during that messaging will in turn make employees feel valued, which is an important component when deciding how to improve employee engagement. This means that all workers, no matter where they are or what they are doing, will work towards the same goal and be included.