It's somewhat of an understatement to say that internal communication plays an important role in employee engagement. It's absolutely vital.
Unless you can cascade the company message successfully through the ranks in a clear, compelling manner, all your engagement efforts will be for nothing. It's safe to say that the success of your employee engagement strategy is wholly reliant on the success of your internal communications.
So you need to find ways to effectively communicate with your employees. And you need to do so in an open, authentic way, enabling effective two-way communication at every level of the organisation. In short, you need strong communication tools.
The Communication Tools
Here at Talkfreely, we have identified the nine internal communication tools that will help you communicate effectively with your employees.
News

Innovation
Recognition
Conversations
Company Information
Notifications & Messaging
Events
Videos
Feedback
But how do you know which one to use, and when to use it? Just as in any craft, it's important to use the right tool for the job. The best tools are the ones that help you achieve multiple goals with ease but without compromise.
In our last blog "Why You Should Create Your Own Definition of Employee Engagement", we identified the key elements to help you define the unique engagement needs of your business. Now you have your personal definition, it's time to implement it via your communication tools.
Here we're going to show you which communication tools to use and when to use them.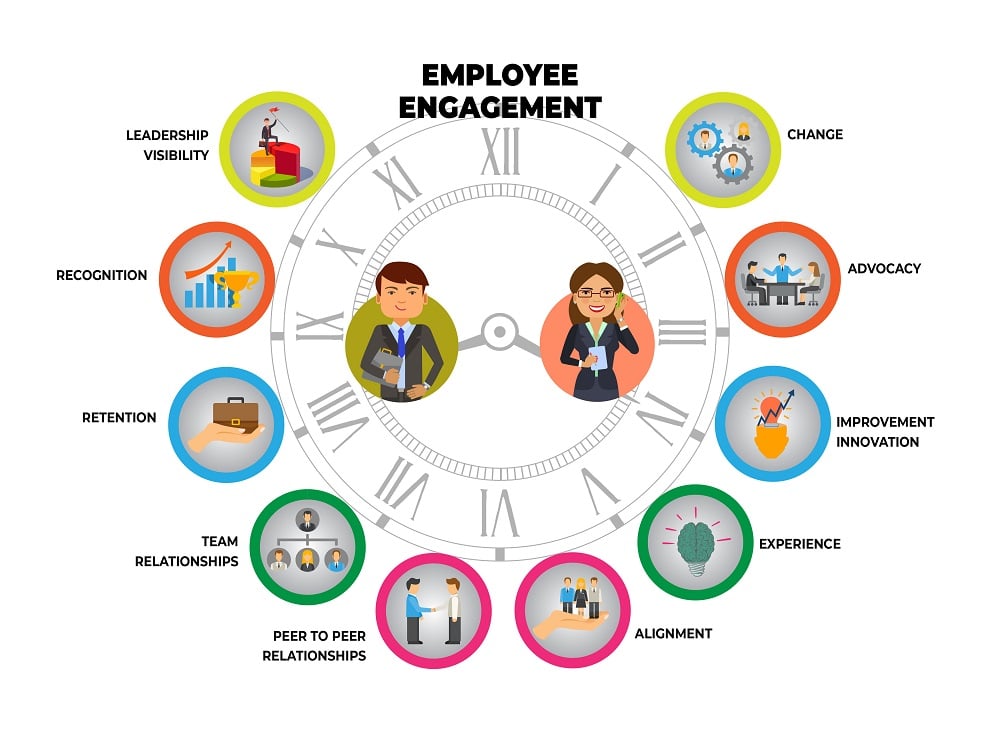 CHANGE
Communicating change isn't handled in a single email. It requires consistent updates, status reports and conversations to ensure employees feel part of the process.
Key Tools
News: Keep employees updated on a regular basis. Make sure they never have to chase for news.
Innovation: Encourage ideas on how to adapt to change to give employees a sense of involvement.
Company Information: Ensure all employees can easily access information including new working practices, processes and procedures.
Notifications: Issue real-time notifications to all employees to ensure a rapid dissemination of information.
Events: Create calendars that keep people up to date with what's happening.
Conversations: Create a place where employees can discuss and ask questions about upcoming change.
ADVOCACY
The more engaged your employees feel, the more they want to talk about the company. Ensure they have the right information to maximise on this crucial marketing stream.
Key Tools
News: Communicate great content that employees can share onwards, adding extra credibility to your news.
Feedback: Keep track of your employee's state of mind. How are they feeling right now on key issues? This will come across in their posts.
Recognition: Show you've noticed the good work they are doing with a formal recognition. They will love to share this with their network.
Innovation: Give them a way to contribute to the success of your business by asking for their ideas and views, which will then be passed forward.
Videos: Share engaging and informative content about the success of your business. Videos have a high hit rate on social media channels.
INNOVATION
Business innovation is not just about new products or services. It is the key strategy to lift a business from stagnation to success. Strong lines of communication will feed innovation.
Key Tools
Innovation: Collect, rate and analyse new ideas submitted by employees themselves. Make sure good ideas are turned into reality.
News: Share details of innovative ideas, how they are progressing and the real-life implementations. People love to see their ideas having an actual impact.
Recognition: Recognise and celebrate the best innovations as they happen. Commend the successful ideas and improvements to inspire more of the same.
TEAM RELATIONSHIPS
Build better teams by engaging employees at all levels in a variety of projects and activities. Shared experiences will improve loyalty within teams and improve performance.
Key Tools
Conversations: Let employees engage and discuss important business issues regardless of department, location or perceived skill-sets.
News: Share stories within teams to ensure everyone is aware of key projects, successes and changes.
Recognition: Give shout outs to teams that achieve more and how they do it. Make sure this information shared across all tiers of the company.
Surveys: Gather data on what employees really think, including views and opinions within teams.
Events: Create engagement events that build relationships and create a buzz around teams.
PEER TO PEER RELATIONSHIPS
Teams are just the start. Encourage employees to reach beyond departments to find the colleagues they need to help them perform better.
Key Tools
Conversations: Never underestimate the value of chat to start important balls rolling, or to get things done faster.
Recognition: Encourage employees to give positive feedback on their peers. Praise from peers holds a special value for employees, especially when it is openly recognised.
Events: Encourage the formation of informal groups, or set up your own. It's a great way to bring talented employees together who otherwise might never cross paths
ALIGNMENT
Keep every employee aligned to your company vision, values and goals. The key to success is understanding, and this is created through effective communication.
Key Tools
News: Share regular stories that update employees about the direction and success of your business. Explain the thinking behind the strategies.
Feedback: Use employee polls to get grass roots feedback quickly and easily. Is there genuine understanding of your company vision?
Company Information: Blogs are a great way to share opinions and insights in a less formal format.
Conversations: Enabling group dialogue often exposes opportunities to fill gaps in knowledge or understanding.
Events: Schedule regular events where employees can learn, engage and ask questions.
RETENTION
Reduce employee turnover / churn by ensuring employees are enthused and motivated. Strong lines of communication will assist the retention of key, skilled employees.
Key Tools
Recognition: Spotlight those employees going the extra mile, doing a great job or being a great colleague. Make sure the recognition is shared across all departments.
Innovation: Give employees the ability to initiate ideas on how they work and what they work on through an open and transparent innovation management process.
Feedback: Surveys provide real time data to help you gauge the business status quo. Regular polls will give rapid insights into single issues that may need addressing.
RECOGNITION
At the heart of recognition is spotting where employees excel, and then sharing those stories across the company. Praise is all the more valuable when it is made public.
Key Tools
Recognition: Demonstrate that your business appreciates what your employees do, and how they do it. Make your recognition formal and public.
News: Share those stories of recognition both internally and externally to maximise the effect.
Innovation: Inspiring stories spark new ideas. Make sure you're ready to capture them and share them widely.
LEADERSHIP VISIBILITY
The key to successful communication is the effective flow of information through the ranks, starting with the most senior team.
Key Tools
Company Information: Utilise blogs to share views from different areas of the business in a more informal way, not just the PR department
News: Keep a flow of news beyond corporate results that encourages, inspires and informs employees on a regular basis.
Conversations: Tap into what employees are talking about by being part of the conversation from the start. Senior leaders need to get actively involved.
Videos: Speak directly to employees so they can put a face to the name. Visibility is a crucial element of successful communication.
Events: Schedule and promote regular events where senior managers can talk directly with members of staff.
The Importance of Effective Communication
The list above should give you a good example of how these communication tools can be best used to support the drive to employee engagement.
If your organisation doesn't have a communication channel that connects every employee, or your current channel does not offer you the right tools to support engagement initiatives, you are going to struggle to succeed.
Ultimately, a successful employee engagement strategy relies on internal communication that actually works. To find out more about how Talkfreely can enhance your lines of communication, contact us on +44 (0) 1730 207 150.