When it comes to employee engagement, there's no single approach that will work for every business. There's no one-size-fits-all solution. That's because every business is unique, with its own brand, culture, structure and mix of employees. However, there are many proven strategies that will get results and make a noticeable difference to your organisation.
We have collated some of the very best staff engagement ideas. Pick the ones that best suit your business and work them together to improve employee engagement.
#1 Begin with a strategy
Why? A defined employee engagement strategy is the blueprint guiding you to success
Start as you mean to go on. With a detailed employee engagement strategy that defines your business goals to increase staff engagement and plans the activities required to achieve these goals.
In order to do this effectively, you will need to tie down your definition of employee engagement, as it applies to your unique business needs. Do you need your staff to be able to adapt to upcoming change? Or maybe you need your employees to work better together as a team? Every organisation has different challenges to face and this will affect the strategy you decide on.
Once you have your plan, it will be need to be executed. Make sure you have all the resources in place. Make sure all departments have been consulted and are on board. And, crucially, make sure your strategy is connecting everyone in the organisation.
#2 Master onboarding
Why? Successful onboarding reduces turnover and ensures immediate productivity
Many companies overlook the importance of onboarding. But the process of integrating new employees into the organisation is a crucial one. Employee engagement survey results suggest almost a quarter of employees will look for a new job within the first 45 days. However, such high turnover levels are easily avoidable.
A structured onboarding programme improves employee engagement and helps get them up to speed with seasoned hires much more quickly. As a result, new employees are more productive and less likely to feel stressed, disconnected and ready to look for work elsewhere.
Group chats have proved a highly effective strategy. An employee engagement app will help to organise new starters in a group chat led by management. Questions can then be answered as they arise, and tackled before they become problems.
#3 Give back
Why? Charitable giving helps employees connect with the company's aims and ideals
Corporate giving is known to have a greatly beneficial effect on company culture. It is a way for the organisation to reinforce their greater purpose – beyond that of just products and services – and communicate it to employees in a meaningful way. In short, it's showing staff that you care.
Organising and promoting charitable events among employees results in significantly improved employee engagement. It is an opportunity to create traditions that staff can take pride in. Ask your teams to get involved with your charitable choices. Nothing promotes employee advocacy better than a sense of pride and ownership.
#4 Make recognition public
Why? When you praise in public, everyone present feels encouraged to work harder
Hard work should never go unnoticed. Otherwise, your employees may be less inclined to deliver again. Instead, promote visibility of your staff by being generous with your public praise and recognition.
In addition, everyone who witnesses public appreciation will register this subconsciously. Not only will they consider the company culture to be supportive and nurturing, they will also feel motivated to follow suit and seek praise themselves.
Simply putting a staff member's name to a project can help to promote engagement, especially when they are thanked for a fantastic job. Digital platforms and employee engagement apps, make it easy to tag employees in this simple but effective form of recognition.
#5 Celebrate the personal stuff
Why? Your employees will feel valued and appreciated if you celebrate what matters to them
Don't just limit the celebrations to company targets and milestones. If you take the time to celebrate things that matter to your employees, you will reap the rewards in improved employee engagement. Workplace celebrations have a huge impact on morale. They foster strong relationships, enhance retention and encourage staff to put in that extra bit of effort to achieve results.
An employee intranet can be used to wish staff members a happy birthday or to celebrate accomplishments whether it is passing an exam or running a marathon. Staff should always feel like they matter to an organisation to ensure they are as engaged as possible.
#6 Empower employees
Why? When you give your staff a voice, you create a better workplace culture
Empowerment is about accountability and trust. You need to give employees a certain degree of autonomy and responsibility in order to gain the best performance from them. Delegating authority and decision-making, sharing information, and asking for input are all ways to pass the power back to your staff. It also takes a lot of work off your shoulders.
To go above and beyond, allow your staff to dedicate time to their own staff engagement ideas and engagement projects. By giving your staff the control, they not only engage in their preferred way, but it also saves you time and effort in engagement activities as well.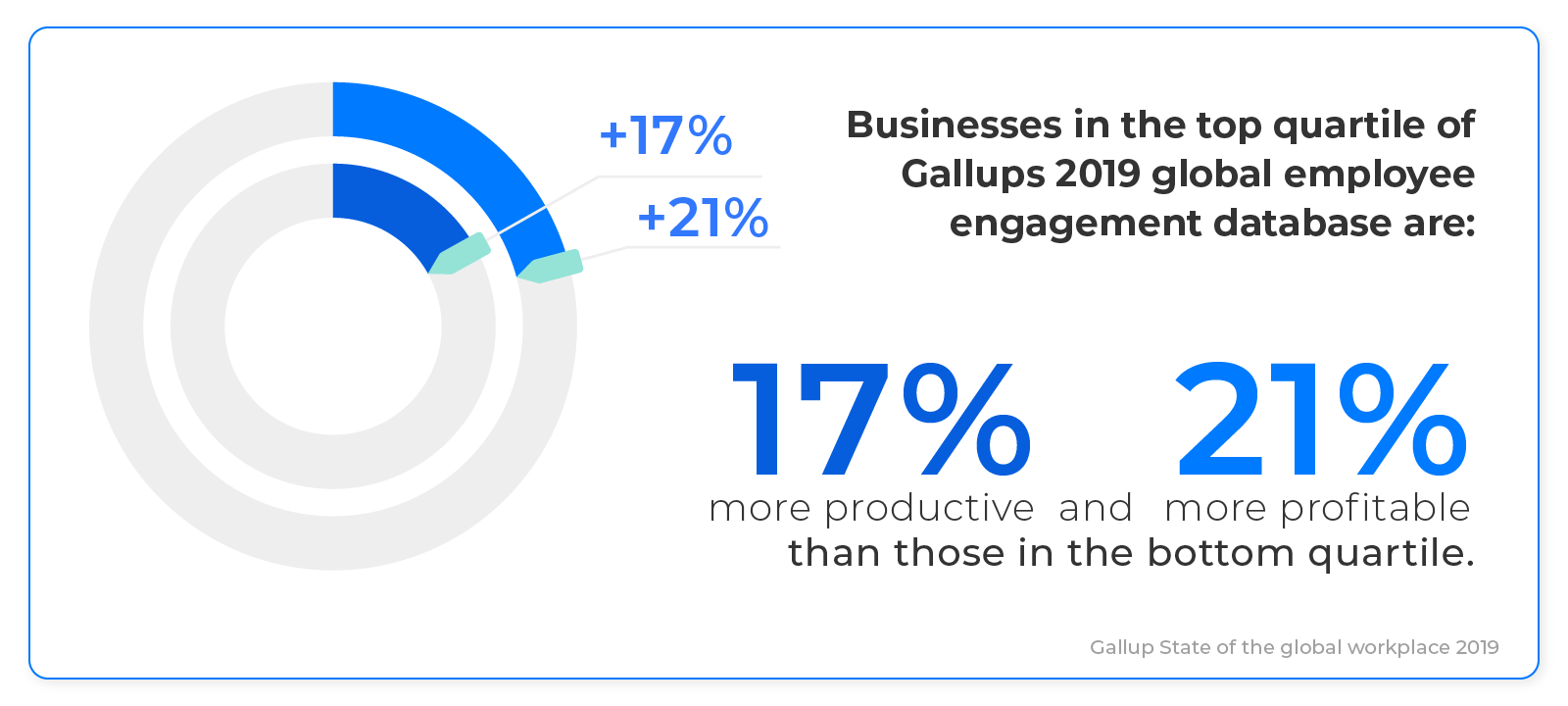 #7 Share news
Why? Employees feel more aligned with a company when they are kept up to date
You're probably kicking out news updates on a daily basis via your marketing team. But are you doing it internally as well? Too often, teams are kept in a little bubble that only relates to their specific role. By sharing news, your employees will feel they are involved in the bigger picture and will feel invested in the business as a whole.
An employee engagement platform is an ideal way to centralise communications. Instead of using disparate channels from a number of sources, you can keep the news relevant and on brand, and essentially, easy to access from one central hub.
#8 Focus on health
Why? If your staff feel healthy and cared-for, they will be less stressed and more productive
Taking a caring approach to your employees makes good business sense. It stands to reason. If your employees are operating at maximum health, they are going to be fully engaged in their work. It's not just physical health you need to consider; make sure you address mental and emotional health issues as well.
You can take this further by creating fitness groups, such as putting everyone on a league for step-counting using a fitness band. You can even create a running club or partner with a local gym to provide a discount to employees. A very popular staff engagement idea at the moment, you'll find a well-organised health focus will reap benefits for you and your staff.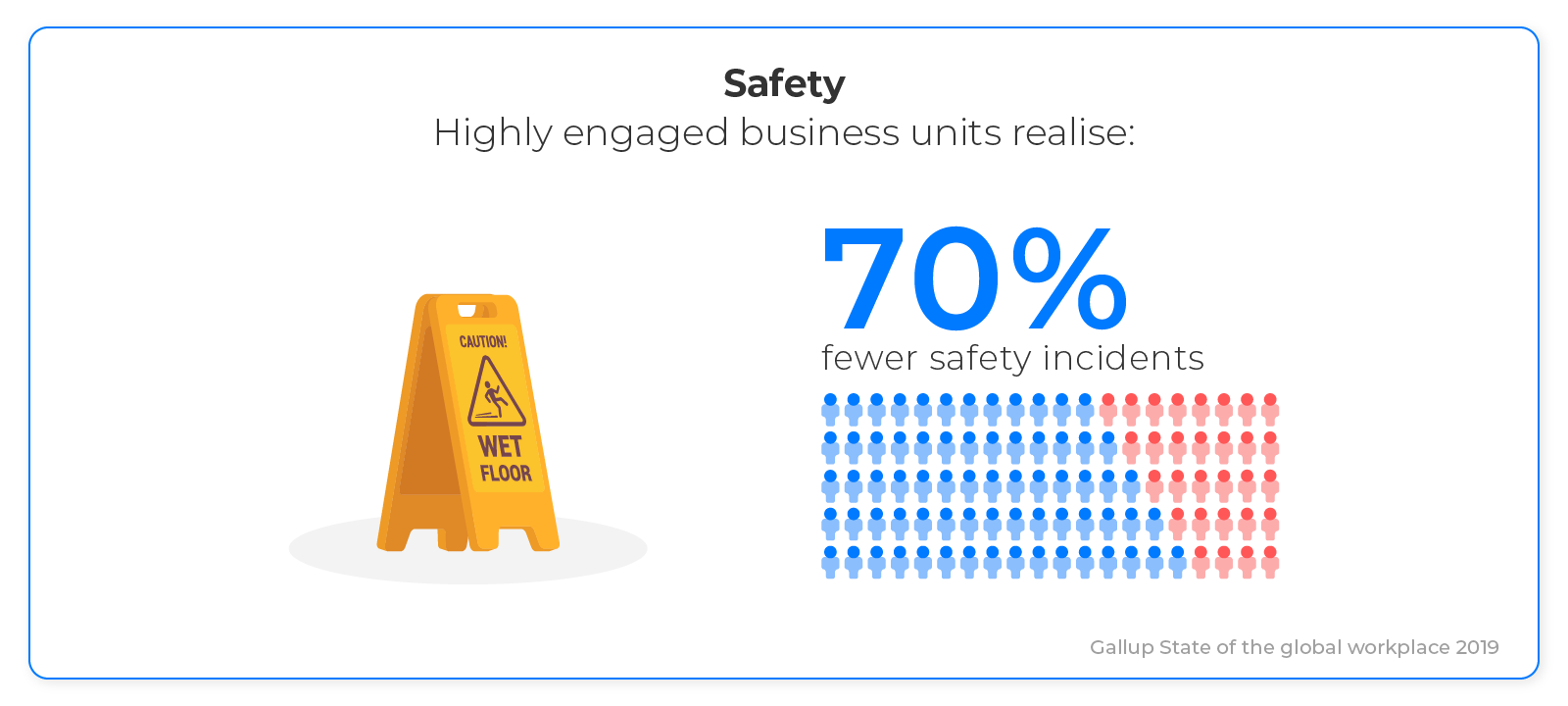 #9 Use motivational speakers
Why? A motivational speaker can bring a new perspective to reinvigorate staff
One of the best things about motivational speakers is that they don't work for you. Therefore, they are not bogged down by the daily grind. They can see the bigger picture and present it to your staff in an original and inspiring way that could inspire an influx of new ideas.
It can be hard to organise such presentations in-house, especially if people work across multiple locations or work remotely. However, you can still engage staff wherever they are.
Webinars, videos and transcripts can all help to engage staff and ensure they don't miss out, even if they aren't based at head office.
#10 Delegate responsibilities
Why? Giving employees their own initiatives produces greater employee satisfaction
Managers tend to delegate tasks. There are always too many tasks that need ticking off the to-do list and passing them on to staff is the obvious option. However, if you take a moment to think through the total requirement of a project, and then delegate the full responsibility, you will achieve a better result and improve employee engagement.
By giving your team their own initiative to see through from start to finish, you'll be energising them to bring their best efforts to the task. It also grooms employees for future managerial positions and encourages employee advocacy. Plus, it frees up more of your time as well. A win win.
#11 Keep communication open
Why? Open communication channels will allow staff to share ideas effectively
An open, two-way communication stream between employees and management will help staff to feel valued and appreciated. The more channels you can provide the better, always ensuring they are carefully monitored, to allow employees to select their favourite form of communication.
An employment engagement app can be considered a 'super channel' that covers all options. It includes email, intranet, instant messaging, videos and more. Once your employees start using these open feedback channels on a regular basis, you'll find engagement levels soar.