How to increase employee engagement in the workplace? It's always been a complex question. But now it has become even more complicated with the sudden increase in remote working. Now you no longer have staff in a central location, easy to access and easy to communicate with. Now you have staff scattered across the country, working from kitchens, bedrooms and living rooms. They no longer have access to the team environment, hands-on management, and in-house IT support. Employee engagement becomes even more crucial than ever.
So how can we increase job satisfaction and improve employee engagement in these exceptional circumstances? The answer remains the same as it has always been. With good internal communication. Communication lies at the heart of every employee engagement strategy. Whether your employees are on the road, working from their spare bedroom or based at head office, you need to keep the communication channels flowing smoothly and effectively.
In this blog, we take a look at the key internal communication tools which will act as powerful drivers of employee engagement. We explore how these tools should be implemented to increase employee productivity and employee engagement. You'll find, once you start employing strategies to increase employee engagement, your remote workers will no longer be a disconnected entity, but part of a motivated and united team once again.
Why are remote workers feeling disengaged?
Gartner research suggests that 88% of organisations are now encouraging or requiring employees to work from home. When you're exploring how to increase employee engagement for remote workers, it's important to understand their situation in full. There are four main reasons why employees working away from the office are not feeling engaged at work:
Lack of social connection
Absence of management
Reduced feedback opportunities
Disruption of work-life balance
When employees are no longer based at the heart of the company, they can lose that crucial sense of belonging. Your job is to recreate that feeling by connecting them to the company with strong, targeted employee engagement initiatives.
The key internal communication tools
If you're aiming to increase employee engagement, you need to have the right tools to hand. Below you'll find a list of the essential internal communication tools that will help you communicate effectively with your employees.
News
Innovation
Recognition
Conversations
Company Information
Notifications & Messaging
Events
Videos
Feedback
But how do you know which one to use, and when to use it? Just as in any craft, it's important to use the right tool for the job. The best tools are the ones that help you achieve multiple goals with ease but without compromise. We show you how to apply these communication tools to the following employee engagement intiatives, giving you the best result, every time.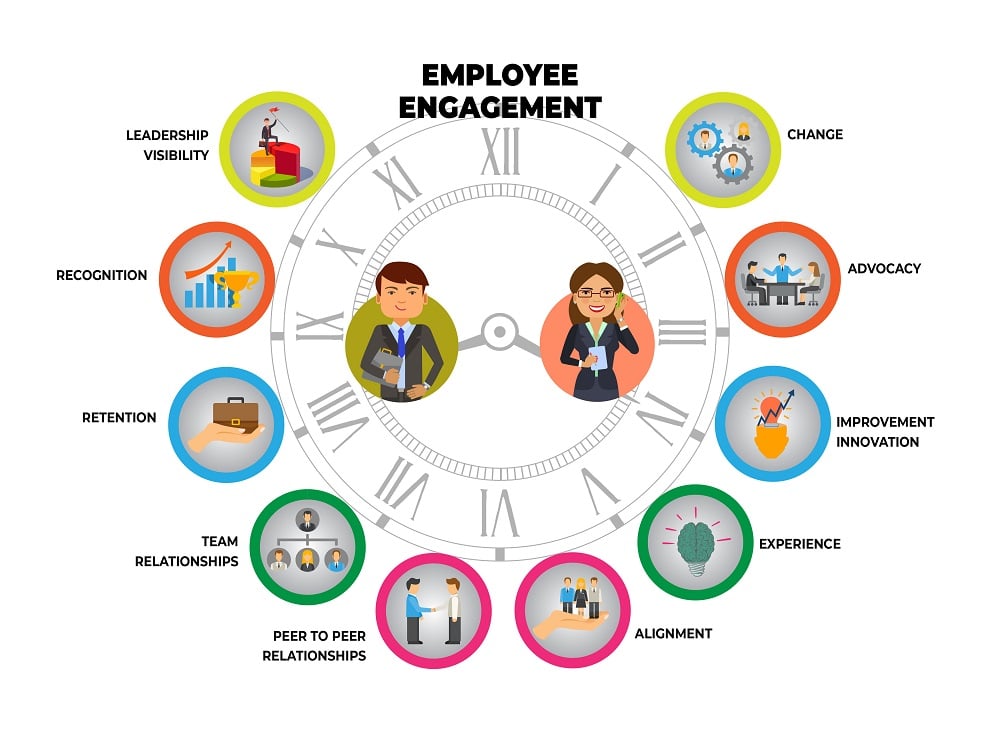 10 Ways to Increase Employee Engagement
1. Manage change effectively
It's fair to say, change is inevitable. It's how you handle it that makes all the difference. Make sure you're putting the employee engagement best practices in place and you'll find it can have a positive effect on your bottom line. When it comes to adapting to remote working, you'll need to step up your communication efforts in order to overcome the new barriers to employee engagement. The following tools will help you keep you fully connected to your remote workers, whatever the situation.
Key Tools For Change
News:

Lack of information is a huge source of stress and anxiety for employees, especially in times of change. It's essential to keep employees updated on a regular basis. Make sure they never have to chase for news.

Notifications:

Issue real-time notifications to all employees to ensure a rapid dissemination of information. An employee app offers the capability to instantly notify everyone in your company of urgent updates.

Company Information:

Ensure all employees can easily access information including new working practices, processes and procedures. Instead of battling with different software systems, considering implementing Employee Engagement Software for an all-in-one solution.

Events:

Create calendars that keep people up to date with what's happening. You can no longer rely on word of mouth to get your events circulated.

Conversations:

Now that the water cooler is no longer the main place to keep up with the news, you'll need to create a virtual space where employees can discuss and ask questions about upcoming change.

Innovation:

Encourage ideas on how to adapt to change to give employees a sense of involvement. Create an innovation platform where the employee voice can be heard.
2. Encourage advocacy from a distance
Employee advocacy can be one of your more powerful sales channels. The more engaged your employees feel, the more they want to talk about the company. With social media streams now more influential than ever, you'll want to ensure they have the right information to maximise on this crucial marketing stream. But how to increase employee commitment and engagement when your employees are dispersed across the country?
Key Tools for Advocacy
News:

Communicate great content that employees can share onwards, adding extra credibility to your marketing. Schedule regular updates to ensure they receive a constant stream of positive news.

Feedback:

Keep track of your employee's state of mind with a regular employee engagement survey. How are they feeling right now on key issues? This will come across in their posts.

Recognition:

Show you've noticed the good work they are doing with a formal recognition. They will love to share this with their network. This is even more crucial for staff working from home, who can often feel they are operating in a vacuum.

Innovation:

Give them a way to contribute to the success of your business by asking for their ideas. An employee engagement app offers in-built innovation modules allowing you to capture ideas and suggestions.

Videos:

Share engaging and informative content about the success of your business. Videos have a high hit rate on social media channels and are a great way of connecting on a personal level with remote colleagues.
3. Invite proposals for innovation and improvement
Business innovation is not just about creating new products or services. It is a key employee listening strategy that can lift a business from stagnation to success. Strong lines of communication will feed innovation and ensure workers feel their voice has been heard and acted upon. Although one of most effective employee engagement ideas, the capture of ideas can often be low down on the priority list when it comes to connecting with remote workers.
Key Tools for Innovation
Innovation:

Collect, rate and analyse new ideas submitted by employees themselves. Just as importantly, make sure those good ideas are turned into reality. Employee engagement software provides a simple to way to manage the workflow of ideas from conception to execution.

News:

Share details of innovative ideas, how they are progressing and the real-life implementations. People love to see their ideas having an actual impact. This is especially relevant for remote workers who will be unable to see their ideas in action.

Recognition:

Recognise and celebrate the best innovations as they happen. Commend the successful ideas and improvements to inspire more of the same. Employee engagement and motivation is strongly linked to the public recognition of hard work and success.
4. Enhance the employee experience
Happy employees make for a happy workplace. But what happens when you lose control of the working conditions your employees are working in? How can you implement your perfect employee engagement model when staff are working from a cramped bedroom, or trying to concentrate in the kitchen of a busy family home. Ultimately, the employee experience affects the way your staff works towards achieving organisational goals.
Key Tools for Experience
Conversations:

Many remote workers feel isolated and out of the loop. Provide a social platform where they can meet, chat and share information with their colleagues. An employee app will give you options for dedicated group conversations as well as private chats, ensuring everyone has a space to connect and bond.

Feedback:

How can you improve your employee's working conditions if you don't know what they are? Schedule regular polls and surveys to ask about their job satisfaction, working conditions and overall morale.

Events:

Just because people can't get together in person, it doesn't mean that your events calendar should be empty. Set up virtual coffee breaks, organise quiz nights and get-togethers, and make sure that the company conference still goes ahead online. With all the employee engagement platforms now available, it is simple to improve employee engagement with technology.
5. Keep employees aligned to your vision
How to engage employees, wherever they are? The secret is alignment. Keep every employee aligned to your company vision, values and goals and you'll see an instant improvement in work engagement. All too often, remote workers lose sight of the bigger picture and just focus in on their personal role. In order to increase employee productivity and employee engagement, you need everyone to understand the overall vision.
Key Tools for Alignment
News:

Share regular stories that update employees about the direction and success of your business. Explain the thinking behind the strategies. This has to be one of your key employee engagement objectives.

Feedback:

Use employee polls to get grass roots feedback quickly and easily. Is there genuine understanding of your company vision? An employee engagement app will quickly create polls and collate answers for an overall picture of employee understanding.

Company Information:

Blogs are a great way to share opinions and insights in a less formal format. Rather than a 200-page report on the company vision, a light-hearted blog will often speak more directly to your remote workforce.

Conversations:

Enabling group dialogue often exposes opportunities to fill gaps in knowledge or understanding. It's a great way to cultivate commitment to common goals.
6. Keep peer to peer relationships alive
Remote working can have a negative effect on relationships. The lack of daily interaction while just making a cup of coffee or waiting by the photocopier can hit workers hard. Friendships are important. Gallup research has found that employees with strong peer relationships are more engaged, produce higher-quality work and have a higher state of well-being.
Key Tools for Peer-to-Peer
Conversations:

Never underestimate the value of chat to start important balls rolling, or to get things done faster. Give your employees a social space to conduct their conversations and you'll instantly improve employee engagement.

Recognition:

Encourage employees to give positive feedback on their peers. Praise from peers holds a special value for employees, especially when it is openly recognised. Employee engagement software offers Recognition Modules that provide opportunities for peer-to-peer appreciation.

Events:

Encourage the formation of informal groups, or set up your own. It's a great way to bring talented employees together who otherwise might never cross paths. Virtual meetings are simple to schedule and one of the key strategies to increase employee engagement.
7. Create opportunities for teams to connect
Build better teams by engaging employees at all levels in a variety of projects and activities. Shared experiences will improve loyalty within teams and improve performance. Feeling disconnected is one of the main barriers to employee engagement. Bring your workers together virtually on a regular basis to ensure that sense of belonging is still alive and well.
Key Tools for Teams
Conversations:

Let employees engage and discuss important business issues regardless of department, location or perceived skill-sets. An employee app offers a social platform where people can post comments, add likes and enjoy a team discussion.

News:

Share stories within teams to ensure everyone is aware of key projects, successes and changes. Teams thrive on interaction and collaboration and keeping everyone informed is a crucial step in creating that open environment.

Recognition

: Give shout outs to teams that achieve more and how they do it. Make sure this information shared across all tiers of the company. When you're aiming to keep remote workers engaged, celebration of success is a prime factor.

Events:

Create engagement events that build relationships and create a buzz around teams. The facilitation of virtual team events is one of the big employee engagement trends seen in recent months.
8. Focus on retaining staff
A startling report from Oxford Economics suggested the cost of losing an employee was £30,000. The analysis found that by far the greatest expense, more than £25,000, comes from loss of productivity caused by the time it takes - 28 weeks on average - for a new recruit to get up to speed. With this in mind, it's crucial to improve employee engagement to retain your workforce. Strong lines of communication will assist the retention of key, skilled employees.
Key Tools for Retention
Recognition:

Spotlight those employees going the extra mile, doing a great job or being a great colleague. Make sure the recognition is shared across all departments. This is particularly relevant for remote workers who may feel their hard work is going unrecognised.

Innovation:

Give employees the ability to initiate ideas on how they work and what they work on through an open and transparent innovation management process. Employee engagement and retention is very strongly based on the provision of transparent, two-way communication channels.

Feedback:

Surveys provide real time data to help you gauge the business status quo. Regular polls will give rapid insights into single issues that may need addressing. When the usual channels for feedback are harder to navigate due to remote working, it is important to facilitate new ways for employees to have their say.
9. Appreciate the power of recognition
When you're assessing how to increase employee engagement in the workforce, don't overlook the potency of recognition. Praise is a simple thing to provide, but the effects can be impressive. At the heart of recognition is spotting where employees excel, and then sharing those stories across the company. And don't forget, praise is all the more valuable when it is made public. A recognition strategy should be one of your key employee engagement objectives.
Key Tools for Recognition
Recognition:

Create a positive culture of appreciation. Demonstrate that your business appreciates what your employees do, and how they do it. Make your recognition formal and public. An employee app will help you to coordinate recognition strategies with in-built modules and social spaces.

News:

Share those stories of recognition both internally and externally to maximise the effect. It's a great way to put across company values and say thank you to hard-working employees who might otherwise feel their work has not been noticed due to their remote location.

Innovation:

Inspiring stories spark new ideas. Make sure you're ready to capture them and share them widely. By facilitating discussion, you're openly recognising the importance of the ideas put forward. Of all the initiatives to improve employee engagement, this should be at the top of your to do list.
10. Maintain leadership visibility
In times of uncertainty and change, leaders need to be more visible than ever. The impact of leadership on employee engagement is well-documented and particularly relevant when it comes to connecting with remote workers. Ultimately, the key to successful communication is the effective flow of information through the ranks, starting with the most senior team.
Key Tools for Leadership
Company Information:

Utilise blogs to share views from different areas of the business in a more informal way, not just the PR department. Your remote workers need to hear directly from their leaders. The aim should be content that encourages, inspires and informs employees.

Conversations:

Tap into what employees are talking about by being part of the conversation from the start. Senior leaders need to get actively involved. The active participation of leaders in company discussions is at the heart of every employee engagement model.

Videos:

Speak directly to employees so they can put a face to the name. Visibility is a crucial element of successful communication. When company conferences or townhall meetings are no longer possible, video messaging comes to the fore. Hearing directly from the boss is a proven way to increase employee productivity and employee engagement.