Internal Communication; Employee Communications; Employee Engagement; Corporate Communications: with so many names, it's no wonder that people sometimes struggle to put their finger on what Internal Communication is all about.
To add insult to injury, it often sits in the shadow of its sexier older brother, marketing communication, and struggles to find a home within the corporate world, sometimes reporting to HR, sometimes marketing, other times directly to the CEO.
With so much confusion, it's time to clarify things. Our seven ways to strengthen Internal Communication will give you a clear idea of what it's all about and how to make it a success.
#1 Keep your audience informed... and involved.
Whichever name you give it, wherever it sits within the organisation, Internal Communication is about the sharing of information. Mainly , that sharing is between the strategic elements of the organisation and those who need to deliver their vision. Directors make decisions on how to run a company on a daily basis and employees are the ones who live and breathe the impact of these decisions. Without understanding the what and the why, employees can lose their enthusiasm and become disengaged. The Internal Communication's function converts senior management decisions into news and information for those who are doing the delivering – the employees.
That's easier said than done. Common barriers to derail a practitioners best intentions are wide-ranging: not every business operates from one site; not every business has an entire workforce sitting at a desk with a computer; not every business has an audience of information hungry, goal-aligned employees; not every business has a board of directors who are totally bought in to the concept of openly communicating. (I know – difficult to believe).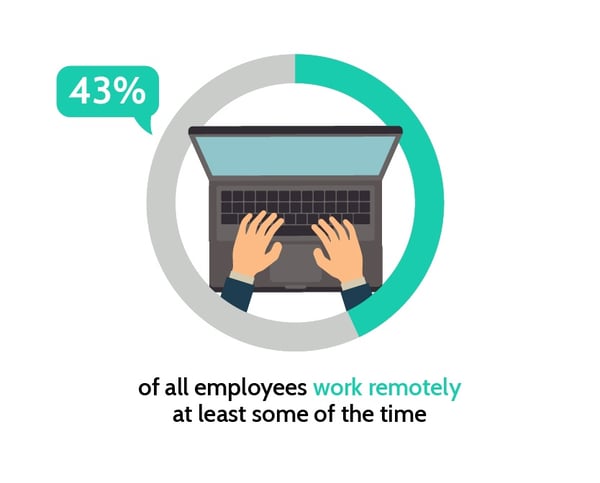 Source: Gallup 2018 - The End of the Traditional Manager
Furthermore, newer barriers are appearing: homeworking; millennial's; flexible working practices; four generational work forces; new collar workers; contractors and the availability of alternative – flakier - sources of company news such as social media and other digital platforms. Which means that information about your business is readily and continually available across the internet for all your employees to see – before the monthly newsletter is a twinkle in its creators eye.
Although, it's not all bad news. These challenges present improvements that come with new ways of working. Our digital society, and its associated consumer tools, can go some way towards alleviating traditional problems such as incomplete cascades and the reliance on Line Managers to correctly interpret information. Forums and platforms which enable collaboration give the management and their teams more opportunity to interact with communications and information, making the whole process of sharing information more efficient and more of a two-way experience.
Top Three Actions:
Start by understanding your audience and audit the available channels.

Be prepared to evolve your internal communications plan as the working landscape changes: internal communications practitioners may now find they are doing more facilitating than broadcasting.

Investigate new tools, which address the natural barriers within the business, and offer an expected 'consumer' experience.
#2 Connect team silos.
Corporate structure aside, the most effective internal communicators are those who have strong relationships with functions throughout the organisation. So often, an "information is power' attitude manifests itself as a reluctance to share and interact. Suddenly silos are popping up all over the place, procurement have planned their own conference and sales are attending a different Christmas party to the rest of the business.
It's so easy for Internal Communications to get sucked in to the low level politics of an organisation. When it's done properly and consistently, inclusion leads to alignment and alignment leads to a sense of engagement. Sounds easy but breaking down barriers can be hard work and needs continual attention. Luckily there are tools and platforms, which can help to facilitate collaboration, and implementing the right ones for the organisation can be a great catalyst for culture change.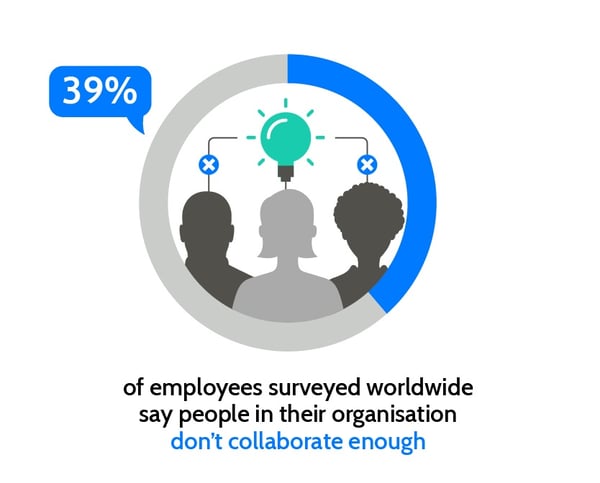 Source: Queens University - Communicating in the workplace
However, there are often many agendas being played out within an organisation so it's important for Internal Communications to be as independent as possible. Even though they may report functionally to HR, there should be dotted lines in to all directorates and a consistent approach to effective communication in the workplace. Internal Communications should lead by example and ensure they are the greatest champions of an open, collaborative approach.
To give the Internal Communications team the credibility they need, they must be championed at the very top level. Unfortunately, the function rarely has a seat at the top table (although this approach is, by far, the best to ensure effectiveness). However, this doesn't mean the director responsible can't champion the cause and make sure the topic is constantly on the agenda.
An organisation that keeps Internal Communications informed – and included – in the running of the business is one that will empower the function and, in doing so, create a recipe for success. It's a self-fulfilling prophecy and it starts, as all good culture does, at the top of the business.
Top Three Actions:
Investigate channels and tools that encourage and facilitate company-wide collaboration (and not just team working tools that can accentuate silo mentality).

Ensure that Internal Communications are involved in major projects (especially anything involving people) at an early stage. They can then plan how and when to share the information and will become a part of the project team.

Make sure Internal Communications is on the agenda at all senior-level meetings. Even if it's raised as AOB, asking "is there anything we need to be sharing with our employees?" is a valid question.
The rise and rise of the digital platform means we are all continually inundated with information. There are a huge number of opinions floating around and people are used to receiving news instantly and in a straight-talking format.
#3 Listen to your employees.
Gone are the days of Internal Communications existing simply to broadcast the views of the Board. Traditional newsletters are likely to feel clunky and outdated as soon as they are released. With the popularity of Facebook and Twitter, discussion and comment is rife. This presents an interesting challenge for internal communicators, especially given that many organisations won't have adopted this type of channel internally.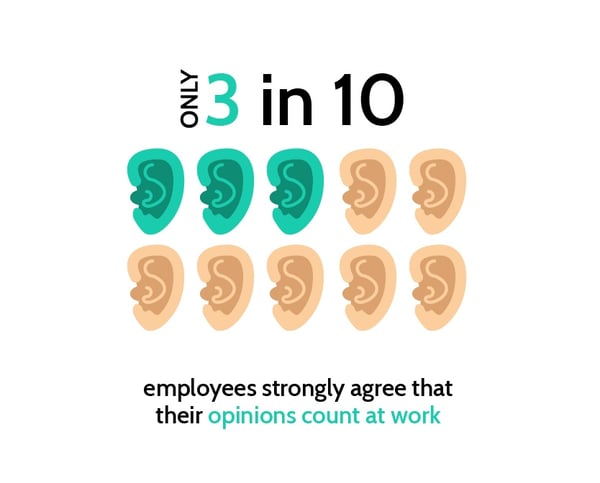 Source: Gallup 2017 - How to Create a Culture of Psychological Safety
The voice of our employees is amplified by our digital society. By recognising this, and becoming a conduit to help people be heard – in the right forum and on the right topics – Internal Communications can go a long way towards improving engagement and creating a truly collaborative workplace.
The best way to do this is to create a safe, inclusive environment for people to be heard. The strong personalities will always speak up when asked (and when not!) but the quieter types also need to be encouraged to participate and contribute. There are countless urban legends about inspiration lurking deep within organisations. Successfully drawing it out is the different between great leadership and inspirational leadership and there are some worthy by-products for Internal Communications, such as getting closer to the stories that exist within the business and building stronger relationships at all levels.
Top Three Actions:
Take a look at the feedback mechanisms within the organisation. Are they realistic and engaging? What is the rate of interaction?

Question the channels that are available. Is there a newer way of engaging employees in a conversation or discussion that could identify new ways of working or other business innovations?

Make it a departmental objective to amplify the collective employee voice within the organisation. Engagement starts with a feeling of inclusion plus it's a great way to start understanding what really matters at the delivery level in a business.
#4 Make Internal Communication a trusted adviser.
The best internal communicators operate from a position of trust. That goes without saying surely? Well, not necessarily. Being too closely aligned with one directorate might earn an internal communicator the dubious label of 'spin doctor'. Being out of touch with the business strategy might lead to being labelled 'out of touch'. The 'trust' needs to come from all levels of the organisation.
Leaders need to trust Internal Communications to get things right; to understand when a business can and can't be 'open and honest' (honesty is always the right policy but there are times when an organisation's communication is governed, such as in the event of annual results announcements or business acquisitions).

Employees need to trust Internal Communications to be an unbiased source of information and a conduit for their feedback.
Although reaching trusted advisor status is a more than just communicating effectively. For an Internal Communications team to become trusted advisors, they need to demonstrate experience, a wider business understanding and the ability to see something from all angles. They sometimes need to disengage themselves as an employee of the organisation and try to see things simply as a communicator. Not easy, especially if there's a restructuring or redundancy project that they need to be involved in. This is when the credibility of the team matters.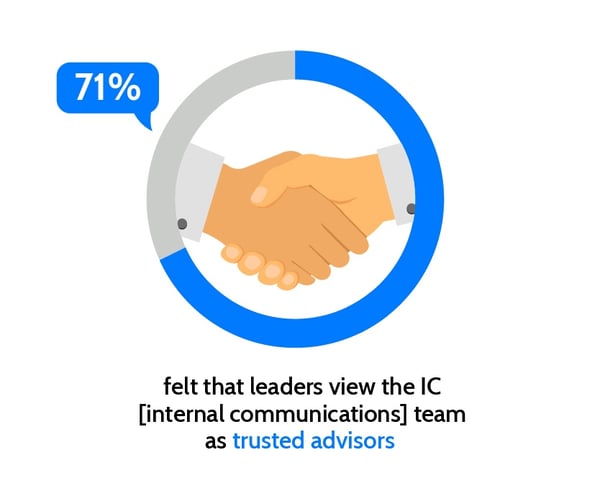 Source: Gatehouse - State of the Sector 2018
Getting this bit right takes maturity and self-respect. Both of which come from being exposed to business decisions, reasoning and strategy. This brings us back, yet again, to the importance of Internal Communications presence – where possible - at the top table
Top Three Actions:
Ensure the internal communications team is equipped with the skills and knowledge they need to do an excellent job. Consider providing stakeholder management training. More so than in other roles, the internal communications team may have to discuss and/or offer a counter opinion to senior leaders. They need to understand how to do this tactfully and respectfully.

Make sure the concept of internal communications is on everyone's agenda. This takes us back to the first point: it's important that internal communications is included at high-level meetings, baked into the strategy and bought into by the leadership team. They need to understand its power – how it helps them achieve their commitments to the chairman and his board.

Allow the Internal Communications team to operate as independently as possible. They should be seen as a facilitator rather than the originator of all news and information.
#5 Use data to measure results and prove ROI .
Aha! The Holy Grail. Demonstrating a return on investment, an impact on the bottom line, has always been a tough job in any of the business support functions. Internal Communications is certainly included in this - and part of that problem is a historically confusing remit. A lack of clear objectives or an indeterminate role within the organisation will create a grey area or a vacuum which will eventually be filled with activity which is well intentioned, but ineffective.
Achieving a clear set of actions, which can be tied back to results and outcomes, takes discipline. It's critical that these actions revolve around the strategy of the business and contribute, ultimately to the growth of that business.
Traditionally, it's been hard to convince leaders of the value of Internal Communications, with the function seen as a 'nice-to-have'. CEOs and the like are answerable for delivering their strategy so it follows that they will be interested in anything which helps them to do this.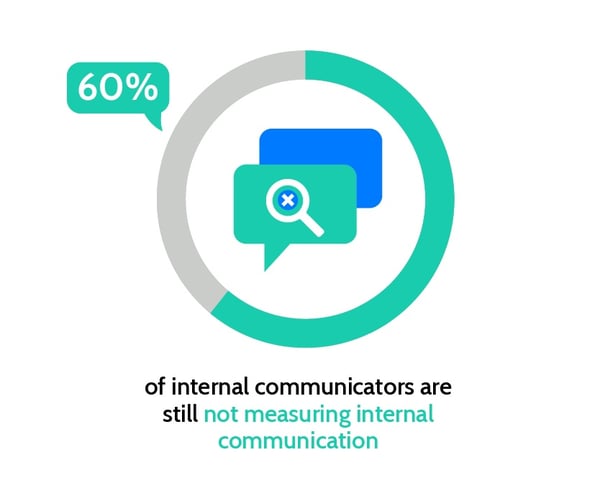 Source: International Association of Business Communication (IABC) - Why are 60 percent of communicators not measuring internal communication?
Many of the everyday battles for internal communicators are around the basics of delivering or collecting information. It's understandable that this can lead to a tactical mindset. But generating common ground with the main objectives of the Board: strategy, growth, business culture, employee engagement; will start to build a strategic mindset. The issue here, of course, is that this relentless focus on the bottom line jars somewhat with the increasing need to foster a culture that nurtures talent and honours passion.
A clear, measurable business strategy should be easy to interpret at all levels of the organisation. Departmental and personal objectives can be derived from it and critical projects or deliverables planned. As well as signposting the priorities of the Internal Communications team itself, the strategy can form the basis of their annual narrative as they seek to inform the entire workforce of the company's goals and challenges.
Top Three Actions:
Help the Internal Communications team to derive their key deliverables from the business strategy.

Identify key messages for the business-at-large and build the internal narrative from these.

Report back to the leadership team in the same format: build the understanding that Internal Communications and delivering the strategy go hand in hand.
#6 Create brand advocates out of your employees.
The public is increasingly wise to traditional marketing and sales techniques. They prefer personal recommendations from their extended communities. "Social" is beginning to blur the lines when it comes to internal and external communication. And brands are increasingly turning to their employees and customers as advocates of their products and services.
This situation creates an interesting opportunity for Internal Communications to evolve and become more 'brand focused'. It's been well documented that story telling is a powerful way of communicating. It actually affects the human brain in a different way and is therefore more memorable. The continual search for content that entertains, engages and adds value to the buyer journey is a great reason to use story telling to bring the human touch to a brand.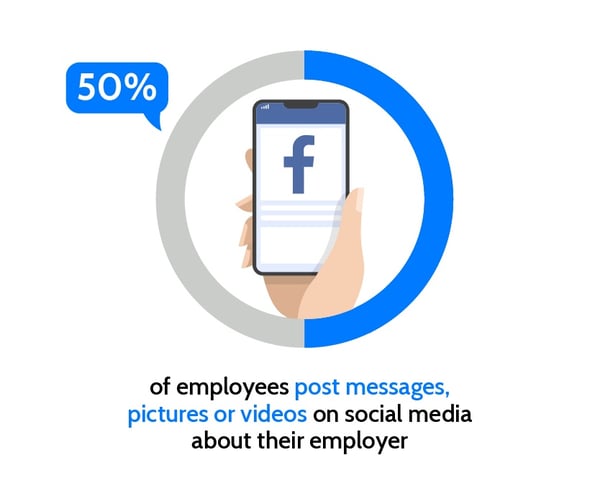 Source: Weber Shandwick - Employee Activism: The next frontier of employee engagement
The Internal Communications team is ideally placed to uncover some of the human angles behind a brand and, in doing so, improve employee engagement by celebrating some of the unsung heroes from within the organisation. Getting involved in advocacy and brand building creates another angle to the internal narrative of a business and ensures Internal Communications are not just seen as the bearer of the drier corporate news. The content is then also available for the wider external audience and provides material for any advocates wishing to share.
This approach creates a rich tapestry of communication with the organisation, building strong internal relationships, breaking down silos and encouraging more two-way interaction.
Top Three Actions:
Start with the simple stuff: look for obvious advocates of the brand or employees with interesting or inspiring stories. If some lead, others will follow but it's not right to force people into the public eye if it's not their thing.

Identify a channel to collect stories. People might want to congratulate a colleague or share an amazing departmental achievement. Make it easy for them to do so.

If the idea gets traction, consider launching an employee advocacy programme within your business. Doing so is likely to increase your competitive advantage and improve employee engagement.
#7 Focus on business outcomes, not Internal Communication activity.
The Internal Communication function needs to tread a careful path. On the one hand they need to deliver the core elements of their function. On the other, they need to find new initiatives that create a step change for the organisation in order to create a business that is efficient, engaged and enlightened.
The core elements - such as: keeping people informed; helping people to understand their role in the company strategy, enabling and incorporating feedback. - underpin everything that the team delivers and remain important to ensure the continued success of the function. But they needn't take up the bulk of the team's time.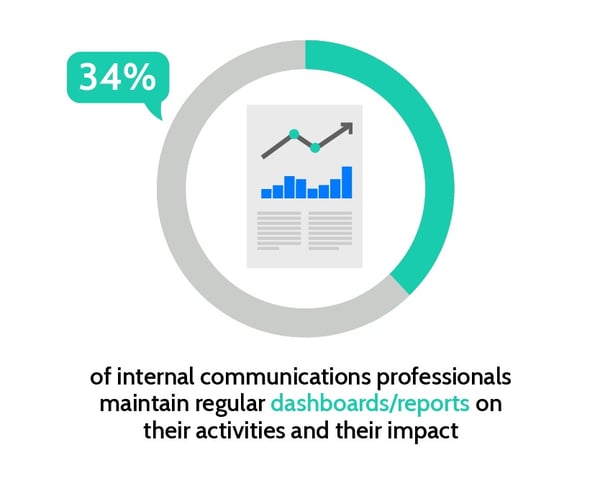 Scheduling the right projects and improvements to the communications offering, which will take the department from good to great, is trickier to get right. The Internal Communications remit needs to evolve and grow with the business but not at the expense of it. Whilst new initiatives may seem exciting, C-level relationships will suffer if the business-as-usual priorities are not met. Additionally, it's important when building credibility to launch projects that genuinely add value to the organisation – that's measureable value – and don't simply confuse or overload the audience. Too many aborted missions might even start to switch off those who champion the cause.
The 'Goldilock's' solution is to have clear department objectives – that align with the business direction and strategy – as well as having a team who are empowered to seek and explore best practice and new developments.
Top Three Actions:
Make sure 'bread-and-butter' processes are embedded and automated. Briefings, channel management, surveys – whatever the deliverable, automate it as much as possible to allow time to move the department on.

Continually test and measure audience opinion. Build specific feedback loops into every piece of work to help build a picture of the audience demographic and preferences.

Create your own case studies or reports, which clearly show the business value of your projects and initiatives.
Summary
Internal Communication is as wide as it is deep. There's no one-size-fits-all solution but there are lots of practical ways it can be tailored to meet the needs of the organisation. Most importantly, the function needs to operate from a position of trust to gain the buy-in and support of the people running that organisation.
If you want to find out any more about internal communication click here